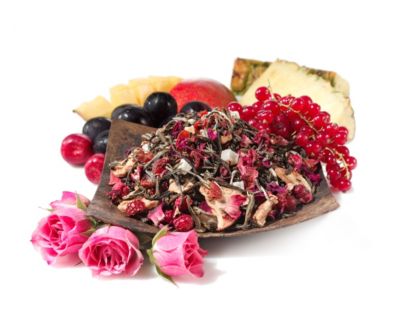 Youthberry White Tea
price reflects 2oz (25-30 teaspoons per 2oz)
Product Rating
Tasting Notes
Refreshing sweet pineapple and fruity acai berry infusion with subtle floral finish
Description
Delicate white tea gets its youthful blush from red currants, açai berry, hibiscus and rose petals. Candied pineapple and mango pieces mingle with Fuji and golden delicious apples in this sweetly timeless elixir.
Refreshing sweet pineapple and fruity acai berry infusion with subtle floral finish
$12.98
Availability:
In Stock
How to Steep / Ingredients
Use 1.5- 2 tsp of tea per 8oz of water. Heat water to 175 degrees (79 degrees Celsius) and steep for 2 minutes. For stronger flavor, use more tea leaves. 2oz of tea equals 25-30 teaspoons.
&nbsp
Ingredients: White tea, candied mango pieces (mango, sugar, citric acid), candied pineapple pieces (pineapple, sugar, citric acid), rose hip peels, apple slices, hibiscus flowers, red currants, artificial flavoring, rose petals, açaí fruit powder (açaí, maltodextrin)
Product Reviews
Aromatic (186)
Fresh (163)
High quality (120)
Unique flavor profile (117)
Smooth body (111)
Weak (36)
Bitter (18)
Artificial taste (13)
Anytime (166)
Afternoon (49)
Evening (49)
Morning (44)
Gifts (36)
Tea Body:
Lightweight (110), Medium (77), Full (25)

Tea Flavor:
Fruity (209), Citrusy (79), Floral (7), Sweet (7), Flowery (3)

Reviewer Profile:
Tea enthusiast (159), Health conscious (89), High-end shopper (63), Occasional tea drinker (38), Health nut (25)
Reviewed by 230 customers
This is a very aromatic tea, and if brewed properly will have zero to extremely light bitterness. This is perfect for anytime of the day.
Tea Body:
Light
Tea Flavor:
Fruity
Comment on this review
I have learned that the best way to avoid bitterness is to let the leaves steep for approx 2-3 minutes and then remove the leaves from the tea. Even when left in (because I get distrated), the bitterness isn't as noticable as I have noticed in other white teas. I save this tea primarily for Saturday or Sunday afternoons when I have time to sit and enjoy it.
Tea Body:
Medium
Tea Flavor:
Fruity, Slightly sweet
Comment on this review
I absolutely love this tea! It is one of my favorites. It's the tea that got me hooked on teavana. I like to blend this tea with the Weigh To Go, it creates the most amazing flavor. But I also tend to add 2 teaspoons of the rock sugar, but that's not a necessity. I strongly recommend this tea, you won't regret it.
Tea Body:
Full
Tea Flavor:
Fruity
Comment on this review
This makes the best iced tea. But it's so expensive that I can't afford to bring it in the house. So what good is it?
Comment on this review
Aromatic
Energizing
Fresh
High Quality
Soothing
Unique Flavor Profile
Afternoon
Dessert Tea
Evening
Wonderful taste that has left me feeling relaxed and refreshed. Perfect chilled for a hot afternoon or right after breakfast! I love it alone and with the pineapple mix. Good Zen!
Comment on this review
Aromatic
Energizing
Fresh
High Quality
Smooth Body
Soothing
Unique Flavor Profile
Anytime
Dessert Tea
Morning
Love this tea. I don't understand why some other reviewers are saying it is bitter. Maybe they are not making it right? We make it in a french press and it comes out rich and flavorful. This is the first tea a have purchased from teavana and I am happy with it and will be purchasing again. As a bonus it has helped me make the transition from drinking too much coffee. :)
Tea Body:
Full
Tea Flavor:
Citrusy, Fruity
Comment on this review
Anytime
Dessert Tea
Evening
Morning
I really love this tea. Saying that, I don't make it as sweet as they do in the store. This is a great tea for late at night and chilling, but be careful that you don't oversteep it. Also, I haven't found a way to make a pots worth without the taste being off.
Tea Body:
Light
Tea Flavor:
Fruity
Comment on this review
Aromatic
Energizing
Fresh
High Quality
Unique Flavor Profile
I have traditionally drank green teas like the Phoenix dragon pearls from your company, and also the jasmine green tea, but have recently attempted to branch out into white teas because of their health benefits and lack of processing.

This is probably my go-to choice for tea varieties at the moment. It is difficult to nail a perfect tea-to-water ratio without it becoming bitter. The first sips until about halfway-finished are perfect, but then it appears as if the bottom is bitter. I use the plastic steeper/press for tea, so there are no dregs or stray leaves causing this bitterness. Generally before this point, the tea is somewhat sweet and very pleasing.

Regardless, the Youthberry tea is a full-flavoured fruity tea with a refreshing floral hint. Contrary to other reviews, I did not find the flavour to taste artificial. I enjoyed the hint of pineapple and rose petal and these flavours, combined with the aromas, contribute to a natural sweetness and to relaxation. I truly feel at peace whenever I drink these herbal teas.

I am into mindfulness and meditation, and I find that these aromatic teas are best as a companion to these activities. Mornings and evenings are typically when I drink this tea because it seems to energize me and contribute to an overall happy feeling that both encourages my brain to wake up, and help it wind down at the end of the day. I find these effects occur even though the tea is at the low-end of the caffeine scale.

I guess something that I would also criticize is the amount of tea in the actual mixture. There seems to be a lot of other things, and not many tea leaves. I drink tea not only for taste, but also because it is extremely healthy - so some more antioxidants would be nice, since the fruit, although it contributes to a very pleasing aroma and taste, really is just filler material.

That being said, there are plenty of other alternatives that your store offers if someone wants more tea in their mixture, so this is not really an important downside.

Compared to green teas, white teas such as this one do not cause me as much of a "cleaning out" symptom. This is also pleasing, for obvious reasons.
Tea Body:
Light
Tea Flavor:
Fruity, Spicy
Comment on this review
Artificial Taste
Bitter
Rough
Too Strong
I love Teavana and feel their teas are amazing, I have tried plenty and stock up on them consistently. I sometimes make up to 3 orders per month from Teavana. I am an enthusiast. I tried this tea with a blend of Wild Orange Blossom, and it was suggested to me by an employee. I had wanted to try something new and it smelled very appealing to my usually fruity tastebuds. I brewed a big pitcher of the tea and from the beginning something just tasted off. At that point I couldn't tell which tea was upsetting the combo, or if it had been both. But I was given a very bitter, hard aftertaste. I tried to continue drinking it but the unbearable taste in my throat was getting worse and worse and unfortunately I didn't drink the rest of the pitcher but my boyfriend seemed to find no issue with it so it did not go to waste. I decided to not brew the tea for a while, but recently I had visited my mother and she had the wild orange blossom tea alone and brewed me a cup of it, it was delicious, sweet and just absolutely amazing! I loved that tea. From that point on, I realized that the youth berry was definitely the problem, I even bought Wild Orange Blossom separate and compared the smells of it alone to it with youth berry and the blend smelled awful, I could smell the bitterness and the exact same terrible after taste I got. I love Teavana, but this is just not my tea. This is probably the only tea I dislike strong enough to make a bad review for it.
Tea Body:
Full
Tea Flavor:
Bitter, Overpowering, Rough, Strong, Weird After Taste
Comment on this review
Aromatic
Energizing
Fresh
Unique Flavor Profile
After Meals
Afternoon
Anytime
Dessert Tea
Evening
Morning
Most of the time I drink pure tea or tea with just a light scent on it. This came free with a tin for some reason. And I'm not one to turn my nose up at free things, so I tried it. It was a total surprise. The white tea melds beautifully with the vibrant fruity flavors. I'm most definitely going to order more.
Tea Body:
Light
Tea Flavor:
Citrusy, Fruity, Sweet
Comment on this review