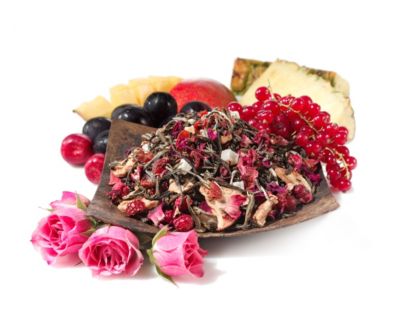 Youthberry White Tea
price reflects 2oz (25-30 teaspoons per 2oz)
Product Rating
Tasting Notes
Refreshing sweet pineapple and fruity acai berry infusion with subtle floral finish
Description
Delicate white tea gets its youthful blush from red currants, açai berry, hibiscus and rose petals. Candied pineapple and mango pieces mingle with Fuji and golden delicious apples in this sweetly timeless elixir.
Refreshing sweet pineapple and fruity acai berry infusion with subtle floral finish
$12.98
Availability:
In Stock
How to Steep / Ingredients
Use 1.5- 2 tsp of tea per 8oz of water. Heat water to 175 degrees (79 degrees Celsius) and steep for 2 minutes. For stronger flavor, use more tea leaves. 2oz of tea equals 25-30 teaspoons.
&nbsp
Ingredients: White tea, candied mango pieces (mango, sugar, citric acid), candied pineapple pieces (pineapple, sugar, citric acid), rose hip peels, apple slices, hibiscus flowers, red currants, artificial flavoring, rose petals, açaí fruit powder (açaí, maltodextrin)
Product Reviews
Aromatic (189)
Fresh (165)
High quality (120)
Unique flavor profile (120)
Smooth body (113)
Weak (38)
Bitter (19)
Artificial taste (14)
Anytime (167)
Afternoon (50)
Evening (49)
Morning (46)
Gifts (37)
Tea Body:
Lightweight (112), Medium (79), Full (25)

Tea Flavor:
Fruity (213), Citrusy (79), Floral (7), Sweet (7), Flowery (3)

Reviewer Profile:
Tea enthusiast (164), Health conscious (91), High-end shopper (63), Occasional tea drinker (38), Health nut (25)
Reviewed by 235 customers
This is one of my favorite teas. It tastes very good. I really love this tea. It's light, fresh, has a light green flavor, and floral taste. The leaves look very pleasing and colorful. I love teas that have rose petals or rosebuds in them. I have only tried it hot, but I'm sure it would work well as an iced tea.
Comment on this review
Aromatic
Smooth Body
Unique Flavor Profile
I usually use 2 (generous) teaspoons of youthberry with a teaspoon of rock sugar. I try to steep it for exactly two minutes. I've made it perfectly a few times where it tasted exactly right and still struggle to replicate that flavor. I try adding more sugar and tea leaves at times. But when made right this is an amazing tea. I would recommend using it with rock sugar.
Tea Body:
Medium
Tea Flavor:
Fruity
Comment on this review
Aromatic
Fresh
Smooth Body
Unique Flavor Profile
This was a Christmas gift from my son & daughter-in-law (who are coffee connoisseurs!). I really love it; I think it's going to be my "new" favorite!! It could be a little bit stronger, but the flavor is so marvelous & tropical.
Tea Body:
Light
Tea Flavor:
Fruity, mild
Comment on this review
It's got a very lively berry flavour, but unnoticeable pineapple and floral finish as described on the tasting notes. Unlike other fruity teavana teas I've tried, this one gets bitter the longer it is steeped.. bleh
Tea Body:
Light
Tea Flavor:
Fruity
Comment on this review
This is a very aromatic tea, and if brewed properly will have zero to extremely light bitterness. This is perfect for anytime of the day.
Tea Body:
Light
Tea Flavor:
Fruity
Comment on this review
Artificial Taste
Too Sweet
The ingredients sounded okay, so I bought some and... whew! The scent is overpowering, even through the paper bag. It completely overwhelms any hint of the tea, to the point where it would probably make a better potpourri than a drink. I ended up mixing it with 2 parts green tea to get it to the point where it resembles drinkable, but I'm not convinced it didn't ruin the green tea. Next time I want a tea with any sort of fruity flavor, I'm just going to buy a little thing of dried fruit and add it to the tea myself.
I mean, it's not even sweet in a full and balanced way- it's sweet in a artificial sweetener kind of way.
Tea Body:
Medium
Tea Flavor:
Fruity
Comment on this review
I have learned that the best way to avoid bitterness is to let the leaves steep for approx 2-3 minutes and then remove the leaves from the tea. Even when left in (because I get distrated), the bitterness isn't as noticable as I have noticed in other white teas. I save this tea primarily for Saturday or Sunday afternoons when I have time to sit and enjoy it.
Tea Body:
Medium
Tea Flavor:
Fruity, Slightly sweet
Comment on this review
I absolutely love this tea! It is one of my favorites. It's the tea that got me hooked on teavana. I like to blend this tea with the Weigh To Go, it creates the most amazing flavor. But I also tend to add 2 teaspoons of the rock sugar, but that's not a necessity. I strongly recommend this tea, you won't regret it.
Tea Body:
Full
Tea Flavor:
Fruity
Comment on this review
This makes the best iced tea. But it's so expensive that I can't afford to bring it in the house. So what good is it?
Comment on this review
Aromatic
Energizing
Fresh
High Quality
Soothing
Unique Flavor Profile
Afternoon
Dessert Tea
Evening
Wonderful taste that has left me feeling relaxed and refreshed. Perfect chilled for a hot afternoon or right after breakfast! I love it alone and with the pineapple mix. Good Zen!
Comment on this review