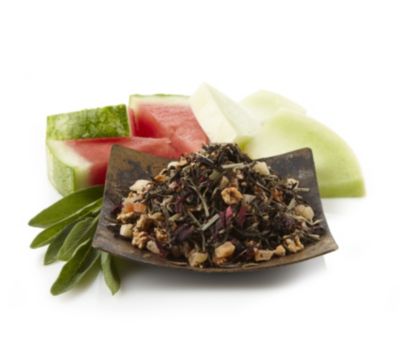 Watermelon Mint Chiller White Tea
price reflects 2oz (25-30 teaspoons per 2oz)
Product Rating
Tasting Notes
Refreshing melon and sweet honeydew with soothing eucalyptus and peppermint
Description
This refreshing white tea is crisp, clean and the perfect antidote to a hot day. Melon, brisk flavors of peppermint and soothing, stimulating eucalyptus mix marvelously with notes of pineapple, tangerine and berries creating a minty, juicy chiller that will keep you calm and collected no matter how high the mercury rises.
Refreshing melon and sweet honeydew with soothing eucalyptus and peppermint
$14.98
Availability:
In Stock
How to Steep / Ingredients
Use 1.5-2 tsp of tea per 8oz of water. Heat water to 175 degrees(79 degrees Celsius) and steep for 2 minutes. For stronger flavor, use more tea leaves. 2oz of tea equals 25-30 teaspoons.
Ingredients
White tea, cantaloupe pieces (melon, sugar, citric acid), pineapple pieces (pineapple, sugar, citric acid), papaya pieces (papaya, sugar, citric acid), hibiscus flowers, apple pieces, and more.
See full list of ingredients
Product Reviews
Aromatic (21)
Fresh (21)
Unique flavor profile (18)
Smooth body (11)
Boosts enegery (7)
Artificial taste (10)
Weak (6)
Too strong (4)
Too sweet (4)
Bitter (3)
Anytime (17)
Morning (7)
Afternoon (6)
Gifts (4)
Tea Body:
Lightweight (16), Medium (16)

Tea Flavor:
Fruity (28), Minty (7), Citrusy (6)

Reviewer Profile:
Tea enthusiast (28), High-end shopper (13), Health conscious (9), Occasional tea drinker (5)
Fresh
Unique Flavor Profile
Many people either love this tea immensely or hate it with a profound disdain. This tea does not taste like watermelon with mint. Changing the temperature of the tea does not improve the flavor. I think if the company wants to adjust the tea to the description of the flavor, they should add more watermelon to the blend and switch to a different mint. For now, do not buy this tea if you want mint with watermelon.

The tea tastes like bubblegum. You know, the pink cubes/sticks you would chew for 15 minutes then stick to the bottom of the desk. If there was a "Back to School"-flavored tea, it would be this one. I enjoy the novelty very much. I'm pretty sure I will continue to buy this tea for the nostalgia.
Comment on this review
When Teavana says to brew this tea using 175 degree (F) water, they mean it. I made several batches using "boiling" water and the tea was bitter.

I followed their directions (on the 3rd try) and it is better, especially with some sweetener added.
Comment on this review
Artificial Taste
Awful taste
Weak
I got a tin of this last summer in the Exotic Iced Tea collection. Here it is, summer again, and the tin of Watermelon Mint Chiller is still sitting in my pantry, with not a single leaf missing. I brewed this one time when I first got the set, and I hated it. It tasted like stale, dirty, sweaty gym socks were stuck in some hot water, and this cup is the result. It smelled awful, and it wasn't any better poured over ice.
I must confide, I'm obsessed with tea. Pretty much all types - white, green, oolong, spicy chais, fruity florals, jasmines, and straight-up pure teas from white to yellow to black, as well as rooibos and mates. That being said, this tea and Opus Rouge Rooibos are the ONLY two Teavana teas in the history of my loyalty as a customer that I cannot stand to smell, brew, or sip.
Tea Body:
Light
Tea Flavor:
Brewed Gym Socks
Comment on this review
I wanted to love this tea. I like watermelon, white teas, and mint. Instead, I have a red liquid that has such a chemical/artificial taste that I can't seem to drink it - hot or cold. It does taste better cold, but it still makes me nauseous.

If I lived closer to a Teavana, then I would return it.
Comment on this review
Excellent as an iced tea on a hot day.
Comment on this review
Aromatic
Convenient
Energizing
Fresh
High Quality
Smooth Body
One of my favourite summer teas. It is really good all year. I might say mint but it's an taste. Drink it hot or cold it's always good. When made it smells nice, you drink it's like a light fruit juice. I love to get this just under room temperature take a big sip and exhale that's when you feel the mint. Very refreshing. Also for summer time make the tea cool it off and use in your smoothies so good also works for home-made slushies.
Comment on this review
Aromatic
Unique Flavor Profile
Artificial Taste
Too Sweet
I love mint. I love watermelon. I thought this would be the perfect combination. Yeah - NOT.

I tried this tea both hot and cold and I just couldn't get over the taste. It's really hard to describe other than it's just WRONG! I couldn't taste the watermelon much at all and the mint was barely there. I couldn't get much of a "good" flavor out of it no matter how I made it (with or without sugar or hot or cold).

I actually ended up throwing this tea out. I just couldn't stand it.
Tea Body:
Light
Tea Flavor:
Citrusy, Fruity, Minty
Comment on this review
Ama
Energizing
Fresh
Smooth Body
Soothing
This tea is amazing! I can't explane how amazing this tea is. This is the very first time i've ever tried and white tea, and i already know this one will be my favorite. Now, i know that white teas smell amazing, but when you add sugar, it hardley tastes like anything at all (depends if you have a flavored or un-flavored white tea). Anyway, this tea has a bitter after flavoring to it. I don't know if it's artificial flavoring, or thats just how white teas are... thats practically the only thing wrong with it. overall, this is an amazing tea and i would recommend it to someone who likes their teas light, not heavy and with a lot of flavor in it.
Tea Body:
Light
Tea Flavor:
Fruity
Comment on this review
Aromatic
Fresh
Unique Flavor Profile
Love this tea. Very refreshing, and minty. Only a trace of fruity notes.
Tea Body:
Medium
Tea Flavor:
Fruity, Minty
Comment on this review
I was excited to try this. It sounded like the perfect summertime tea. I didn't expect to drink it hot; I bought it thinking I'd make iced tea. It smelled great when I opened the bag but was very weak and boring in the glass. I didn't taste melon at all, just a bit of mint, and not in a good way. It tasted like toothpaste. Very disappointing.
Tea Body:
Light
Tea Flavor:
Dull
Comment on this review