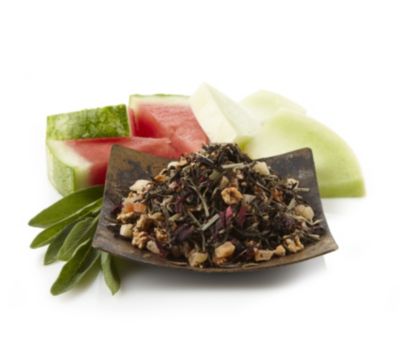 Watermelon Mint Chiller White Tea
price reflects 2oz (25-30 teaspoons per 2oz)
Product Rating
Description
This refreshing white tea is crisp, clean and the perfect antidote to a hot day. Melon, brisk flavors of peppermint and soothing, stimulating eucalyptus mix marvelously with notes of pineapple, tangerine and berries creating a minty, juicy chiller that will keep you calm and collected no matter how high the mercury rises.
Tasting Notes
Refreshing melon and sweet honeydew with soothing eucalyptus and peppermint
$14.98
Availability:
In Stock
How to Steep / Ingredients
Use 1.5-2 tsp of tea per 8oz of water. Heat water to 175 degrees(79 degrees Celsius) and steep for 2 minutes. For stronger flavor, use more tea leaves. 2oz of tea equals 25-30 teaspoons.
Ingredients
White tea, cantaloupe pieces (melon, sugar, citric acid), pineapple pieces (pineapple, sugar, citric acid), papaya pieces (papaya, sugar, citric acid), hibiscus flowers, apple pieces, and more.
See full list of ingredients
Product Reviews
Fresh (24)
Aromatic (22)
Unique flavor profile (20)
Smooth body (11)
Boosts enegery (8)
Artificial taste (14)
Weak (7)
Too sweet (6)
Too strong (5)
Bitter (4)
Anytime (20)
Afternoon (8)
Morning (7)
Gifts (4)
Tea Body:
Medium (19), Lightweight (18)

Tea Flavor:
Fruity (32), Minty (7), Citrusy (6)

Reviewer Profile:
Tea enthusiast (33), High-end shopper (14), Health conscious (12), Occasional tea drinker (6)
Fresh
Strong
Unique Flavor Profile
This really isn't a bad tea! And, as you can see based on other reviews, this is a tea you will either love or hate. I enjoy this tea iced, and it has a very refreshing but bold taste. It definitely tastes like bubblegum instead of watermelon and mint however. The scent is extremely reminiscent of the taste.

To those concerned about artificial taste, you probably shouldn't get this tea. Teavana, for whatever reason (cost, availablility, etc.), chose to replicate the flavor of watermelon. Did they succeed? Most certainly not.
Tea Body:
Full
Tea Flavor:
Fruity
Comment on this review
I Love this tea. GREAT for Ice Tea. A perfect summer tea!
Comment on this review
Artificial Taste
Too Sweet
This sounded like the ultimate iced tea to me: fresh, fruity, minty, with "chiller" right in the name? Perfect.

Alas, it is not so. This tea does not taste like watermelon. It does not taste like mint. I'm not actually sure what it tastes like, except sugar water.

The good news? It doesn't taste repulsive. It doesn't have enough flavor to be repulsive. But it doesn't really taste drinkable, either. For this price, that's highly disappointing.
Comment on this review
Artificial Taste
Too Strong
This is something I would never even accept if it were free. It is literally the WORST thing that has ever touched my tongue. Me and my roommates (there are 5 of us) all with different tastebuds all agree that this was miserably disgusting. It tastes EXACTLY like CHERRY COUGH SYRUP. Smells like it too. It leaves your tongue slightly "numb" feeling. Tastes very similar to the stuff they give you at the dentist's office to numb your cheeks.
Tea Body:
Light
Tea Flavor:
Cough Syrup
Comment on this review
Artificial Taste
Bitter
Weak
New to blended tea's, I usually buy my teas in a grocery store, black tea is my favorite....I will have to say this was horrible, for my first time trying loose leaf tea, did not taste a bit like watermelon, I could taste the mint faintly. The smell was amazing. But kinda disappointed. This was my first purchase and I will have to say I'm very unhappy to have spent money on this. I will end up giving away or tossing it. I tried it cold and than hot (big mistake). I will continue looking for that perfect tea.
Tea Body:
Light
Tea Flavor:
Fruity
Comment on this review
Artificial Taste
Too Sweet
I bought a cup of this iced at my local Teavana and it was surprisingly great. However, it was a bit sweet for me, and I have a big sweet tooth. Granted, they did add rock sugar to it, but they added a "light" amount (2 tsp maybe). It might be better without the sugar! I wouldn't drink it enough to buy 2oz of it, but it is a great cool off and would be perfect for the summer.
Tea Body:
Medium
Tea Flavor:
Fruity
Comment on this review
Energizing
Fresh
High Quality
I chose this tea because of the mint and eucalyptus. Love it. It's smooth and refreshing. Didn't expect to like it so much!
Tea Body:
Medium
Tea Flavor:
Fruity
Comment on this review
Fresh
Unique Flavor Profile
Many people either love this tea immensely or hate it with a profound disdain. This tea does not taste like watermelon with mint. Changing the temperature of the tea does not improve the flavor. I think if the company wants to adjust the tea to the description of the flavor, they should add more watermelon to the blend and switch to a different mint. For now, do not buy this tea if you want mint with watermelon.

The tea tastes like bubblegum. You know, the pink cubes/sticks you would chew for 15 minutes then stick to the bottom of the desk. If there was a "Back to School"-flavored tea, it would be this one. I enjoy the novelty very much. I'm pretty sure I will continue to buy this tea for the nostalgia.
Comment on this review
When Teavana says to brew this tea using 175 degree (F) water, they mean it. I made several batches using "boiling" water and the tea was bitter.

I followed their directions (on the 3rd try) and it is better, especially with some sweetener added.
Comment on this review
Artificial Taste
Awful taste
Weak
I got a tin of this last summer in the Exotic Iced Tea collection. Here it is, summer again, and the tin of Watermelon Mint Chiller is still sitting in my pantry, with not a single leaf missing. I brewed this one time when I first got the set, and I hated it. It tasted like stale, dirty, sweaty gym socks were stuck in some hot water, and this cup is the result. It smelled awful, and it wasn't any better poured over ice.
I must confide, I'm obsessed with tea. Pretty much all types - white, green, oolong, spicy chais, fruity florals, jasmines, and straight-up pure teas from white to yellow to black, as well as rooibos and mates. That being said, this tea and Opus Rouge Rooibos are the ONLY two Teavana teas in the history of my loyalty as a customer that I cannot stand to smell, brew, or sip.
Tea Body:
Light
Tea Flavor:
Brewed Gym Socks
Comment on this review