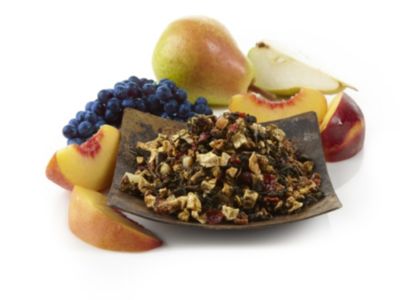 Sweet Asian Pear White Tea
price reflects 2oz (25-30 teaspoons per 2oz)
Product Rating
Description
Slip in to serenity with this soothing, flavorful and "oh-so-delicious" white and oolong tea blend. Kissed with elderflowers, the sweet Asian pear, passionfruit, peach and silky smooth citrus combine to create a blissful and calming experience, certain to keep your head in the clouds as you sip your way through daydreams.
Tasting Notes
Sweet Asian Pear balanced with passion fruit & citrus with delicate floral undertones
$14.98
Availability:
In Stock
How to Steep / Ingredients
Use 1.5-2 tsp of tea per 8oz of water. Heat water to 175 degrees(79 degrees Celsius) and steep for 2 minutes. For stronger flavor, use more tea leaves. 2oz of tea equals 25-30 teaspoons.
Ingredients
: Apple pieces, white tea, oolong tea, pear pieces, rosehip peels, natural & artificial flavoring, peach (with rice flour), jackfruit (jackfruit,cane sugar, citric acid, calcium chloride), and more. \
See full list of ingredients
Product Reviews
Aromatic (24)
Fresh (18)
High quality (13)
Soothing (13)
Smooth body (11)
Bitter (5)
Weak (5)
Artificial taste (4)
Pricey / poor value (3)
Anytime (16)
Evening (9)
Dessert tea (6)
After meals (3)
Afternoon (3)
Tea Body:
Lightweight (11), Medium (10)

Tea Flavor:
Fruity (22), Citrusy (8)

Reviewer Profile:
Tea enthusiast (21), High-end shopper (7), Health conscious (6), Occasional tea drinker (4)
Caution: If you are not a person who takes the temperature of your water, then times the steep, then do NOT get this tea! Everyone who has said it is bitter did not listen to the directions. However, if you are a rule-follower and do exactly as it says, both in temperature of the water and in time allowed for steeping, then the tea will not taste bitter. This is a very finicky tea (as it must be made only a certain way) and I do not find that most Teavana teas are quite this "needy" if you will. However, if you LOVE the smell (as I do... it is what made me want to buy the tea in the first place) then go through the extra effort to make it perfectly so that you can actually have the tea taste as good as it smells, instead of bitter and rather fake.
Tea Body:
Medium
Tea Flavor:
Citrusy, Fruity
Comment on this review
Sweet but bitter at the same time. One of the few teas that I won't finish. It does smell quite good though.
Tea Body:
Light
Tea Flavor:
Bitter, Fruity
Comment on this review
The smell of this tea is glorious but the flavor is completely artificial and bitter. There isn't a single hint of pear or any kind of fruit. It tasted like perfume.
Comment on this review
Aromatic
Fresh
High Quality
Soothing
Unique Flavor Profile
I had never asked to see this tea in store due to the fact that pears are just about the only fruit that I do not like, but when the tea specialist took it down to show me I was blown away by the aroma and couldn't help but take some home. I was back the next day for more! This white tea is heavenly and perfectly sweet even without sugar.
Tea Body:
Light
Tea Flavor:
Fruity
Comment on this review
Aromatic
Convenient
Energizing
Fresh
Unique Flavor Profile
Artificial Taste
Expensive
This one smells better than it tastes, in my opinion. I've been on a mission, looking for a pear flavored tea, and sadly I don't think this one is it for me. The tea has a sweet beginning, and then it transitions into something... odd tasting. Kind of a chemical-y, artificial after taste. The white and oolong blend is delightful, it's just the fruit flavor that I'm not too fond of. For the price, a little disappointing.
Tea Body:
Light
Tea Flavor:
Citrusy, Fruity
Comment on this review
Aromatic
Flavorful
High Quality
Smooth Body
Soothing
I didn't think a tea with "pear" in it would impress me but this has become my absolute favorite! It's smooth, aromatic and delicious.
Comment on this review
Aromatic
Unique Flavor Profile
There is a very nice aromatic fragrance. However once seeped it was mostly like eating a dandelion. Which is good!...if you're into that sort of thing. Just not for me, at all
Tea Body:
Full
Tea Flavor:
Citrusy, Floral, Vegetal
Comment on this review
Aromatic
Convenient
Fresh
High Quality
Smooth Body
Love it! I am not one for whole Asian pears but I do like this tea. It has a lovely sent and isn't too strong but Asian pears aren't. I am not saying the weak is a bad thing it's a good thing because you get the taste but it's not overwhelming. I love it great in summer not too much in the fall. Very light and peaceful.
Comment on this review
I'll keep it short, this tea was nasty, it was like drinking a pear scented tea with a dash of pesticides. Horrible chemical aftertaste. You have been warned.
Comment on this review
Aromatic
Fresh
High Quality
Smooth Body
Soothing
Unique Flavor Profile
Anytime
Dessert Tea
Evening
I'm typically a floral tea drinker as I'm not really into the tutty-fruity varieties. However, I will make the exception for this one. I was blown away! I had gone into the store to get Shanghi Orchid, of which to my dismay was discontinued. So the store associate suggested going on a limb and trying something fruity. I can't get enough of the Asian Pear. It's sweet, but not overpowering. Does not taste artificial. The flavor profile is outstanding- not monotone at all! Only thing I don't like about it is that the ratio of fruit chunks to actual tea leaves is very unequal. Needs more tea, and it also can get a bit bitter. But I drink through the bitterness, because it's that delicious!
Tea Body:
Medium
Tea Flavor:
Fruity
Comment on this review