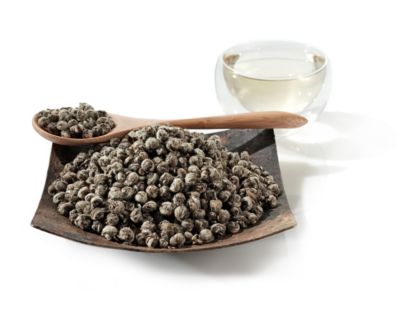 Silver Yin Zhen Pearls White Tea
price reflects 2oz (25-30 teaspoons per 2oz)
Product Rating
Description
Ancient and revered, this exclusive pearl-shaped white tea was reserved for the Imperial Chinese aristocracy. Once a well-guarded secret, the rare Silver Needle tea is a masterpiece to tea aficionados. Hand-rolled, pearl-shaped tea buds exude a subtle, smooth, silky taste of exotic Asia, as each leaf releases a hint of its rarest, most delicate form.
Tasting Notes
Mellow infusion with
silky sweet
undertones; more fragrant cup than Silver Needle
$22.98
Availability:
In Stock
How to Steep / Ingredients
Use 1-1.5 tsp of tea per 8oz of water. Heat water to 175 degrees(79 degrees Celsius)and seep for 4-5 minutes. For stronger flavor, use more tea leaves. 2oz of tea equals 25-30 teaspoons. Ingredients: White tea.
Product Reviews