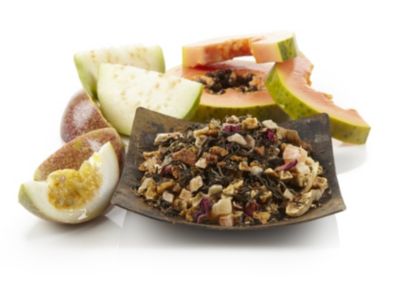 Guava Papaya Passion White Tea
price reflects 2oz (25-30 teaspoons per 2oz)
Product Rating
Tasting Notes
Bold tropical fruits balanced with sweet fig, melon and a touch of soft vanilla and rose
Description
Tantalize your taste buds with this exotic, tropical fruit marriage of rich white tea and green rooibos. A powerhouse of passionfruit, guava, papaya, sweet fig, and melon with just a touch of soothing vanilla and rose, it's a delicious and refreshing treat that is most definitely a sip worth taking.
Bold tropical fruits balanced with sweet fig, melon and a touch of soft vanilla and rose
SALE! Save 75 % $3.75
Availability:
Out of Stock
How to Steep / Ingredients
Use 1.5-2 tsp of tea per 8oz of water. Heat water to 175 degrees(79 degrees Celsius) and steep for 2 mintues. For stronger flavor, use more tea leaves. 2oz of tea equals 25-30 teaspoons.
<
Ingredients
:Guava pieces (guava, sugar, calcium chloride, citric acid, malic acid, salt), white tea, papaya bits (papaya, sugar citric acid), apple pieces, melon pieces (melon sugar, citric acid), green
See full list of ingredients
Product Reviews