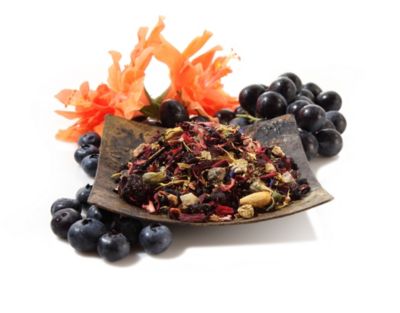 Sevenberry Sangria Rooibos Tea
price reflects 2oz (25-30 teaspoons per 2oz)
Product Rating
Tasting Notes
Bright flavors of grapes, cherry, raspberry and blueberry
Description
A delicious moment, shared and savored. Each cup of our multi-berry medley swirls with the flair of a Spanish punchbowl; brimming over with the lavish flavors of blueberry, grape, elderberry, creamy vanilla and black currant. Evoke a Sangria celebration every single day of the year with this luscious rooibos-based infusion.
Bright flavors of grapes, cherry, raspberry and blueberry
$6.98
Availability:
In Stock
How to Steep / Ingredients
Use 1.5-2 tsp of tea per 8oz of water. Heat water to just at boiling (208 degrees/98 degrees Celsius) and steep for 5-6 minutes. For stronger flavor, use more tea leaves. 2oz of tea equals 25-30 teaspoons.

Ingredients: Green rooibos, hibiscus flowers, grapes, elderberries, artificial flavoring, black currants, blueberries
Product Reviews
Aromatic (32)
Fresh (26)
Unique flavor profile (22)
Smooth body (19)
High quality (15)
Tart (6)
Too strong (5)
Artificial taste (4)
Anytime (29)
Afternoon (9)
Morning (8)
Dessert tea (4)
Evening (4)
Tea Body:
Full (19), Medium (15), Lightweight (6)

Tea Flavor:
Fruity (42), Tart (6), Citrusy (5)

Reviewer Profile:
Tea enthusiast (35), Health conscious (12), High-end shopper (9)
Love this tea with 2 tspn of German Rock sugar and 3 tspn 7 Berry steeped for 7 minutes in a Teavana mug. Why I can't buy this in my local store, I'm not sure. They told me it was discontinued. I now buy online.
Tea Body:
Light
Tea Flavor:
Fruity
Comment on this review
Aromatic
Energizing
Fresh
High Quality
Smooth Body
Soothing
Unique Flavor Profile
LOVE THIS FLAVOUR..MY ABSOLUTE FAVOURITE HOT OR COLD ...!!
Tea Body:
Full
Tea Flavor:
Citrusy, Fruity
Comment on this review
I've probably made this tea 5 times since I got it, but all the times, they failed. I don't know if it was me, or the directions, or even the tea itself. But I have finally made it to where it's not overbearing or too weak.
I rated it on the taste of the tea, though. It's okay. Generally just average tasting. Probably would taste better iced, but it's good.
Comment on this review
This is a below average tea by teavana standards. It is decent and certainly drinkable, but the hibiscus flavor overwhelms the flavor of all the other ingredients. I expect that kind of thing from lower-end tea, but teavana is usually very good about allowing all the subtle flavors of the tea to shine through. Buy a different rooibos, like dosha chai, instead.
Tea Body:
Medium
Tea Flavor:
Fruity
Comment on this review
Convenient
Energizing
Fresh
Unique Flavor Profile
I very much enjoy this tea. I loved it iced during the afternoon it gives me a good boost of energy.
Tea Body:
Light
Tea Flavor:
Fruity, Tart
Comment on this review
I prefer Teavana's green teas, but I have to be very careful how much caffiene I drink. So, for every cup of green I drink, I probably drink 3 or 4 cups of rooibos or herbal tea. Sevenberry Sangria is my favorite caffiene free tea. It is tart, and fruity - so if you don't like tart and you don't want to add sugar, it's not for you. But I don't mind a tsp or so of rock sugar. Love this tea!
Tea Body:
Full
Tea Flavor:
Fruity, Tart
Comment on this review
I had been wanting to try this tea and picked it up on a recent visit. The directions say 3 tsp for each 1oz of water for iced tea (my preferred method of drinking). For my 66oz Teavana pitcher, I used 24 teaspons, the majority of my purchase. It was way way too much! Using that much and steeping for the recommended timeframe for iced tea made an almost syrupy tea that was heavy on the cherry. It was almost like drinking cherry juice.

I then reused the same 24 teaspoons in another 64 oz pitcher with some hibiscus tea I had from another brand. Steeping for 5 minutes netted a dark cherry color that also was quite strong, so I diluted both with some hot water.

I think it'll successfully brew another 64 oz pitcher with the addition of some lighter flavors.

You get a lot of bang for your buck but I wish I would have known before making my first pitcher. I would recommend using half of what is recommended for iced tea. It's slightly sour and I don't think it'd be good hot, but with some sweetener and lots of ice it's (now slightly diluted) crisp sweet and refreshing.
Comment on this review
Energizing
Unique Flavor Profile
I found this tea quite tart. Whether or not that's a con depends on your taste- I liked it once I got used to it. I'll definitely be picking up more of this in the future.
Tea Flavor:
Citrusy, Fruity
Comment on this review
Aromatic
Unique Flavor Profile
Artificial Taste
Sour
Underwhelming
Weak
I got this as part of a gift set for Christmas, and I was very excited to try it because of how great it smelled. The color of the brew is really unique and I was hoping to love this tea, however after the first sip I couldn't bear to take another. The initial taste is weak and slightly sweet, but the aftertaste is sour and just ruins the whole experience. Everyone that I tried to give this tea to has also hated it, and I felt really bad when I threw it away.
Comment on this review
Aromatic
Sangria Without Alcohol
Smooth Body
Soothing
Unique Flavor Profile
Anytime
Dessert Tea
Evening
Morning
Ordered this when Teavana had their big sale at the end of December. Finally just got around to trying this one as it was one of 14 others that I ordered. This is delicious! I put it in my coffee/tea maker, which I know isn't really the recommended prep method. But it is fruity, light, and just right!
Tea Body:
Medium
Tea Flavor:
Citrusy, Fruity, Sweet
Comment on this review