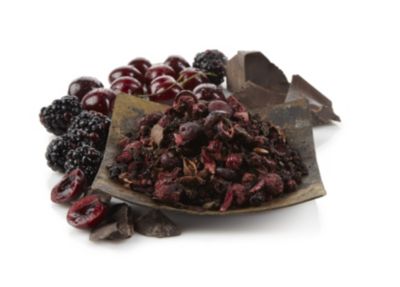 WonderBerry Chocolate Truffle Oolong Tea
price reflects 2oz (25-30 teaspoons per 2oz)
Product Rating
Tasting Notes
Explosive multi-berry taste
with
full-bodied chocolate
notes
Description
Inspired by Belgium's decadent chocolate truffles, this delicious oolong is a wonderful blend of rich chocolate, cocoa, and creamy vanilla, infused with a juicy mix of elderberries, blackberries, cranberries, cherries, and raspberries. A true chocolate and berry lovers' delight, these indulgent flavors melt together with a hint of spice to create a perfectly wicked treat.
Explosive multi-berry taste
with
full-bodied chocolate
notes
$10.98
Availability:
In Stock
How to Steep / Ingredients
Use 1 teaspoon of tea per 8oz of water. Heat water to just before boiling (195 degrees/90 degrees Celsius) and steep for 3 minutes. For stronger flavor, use more tea leaves. 2oz of tea equals 25-30 teaspoons.
Ingredients
:Elderberries, carob pieces, hibiscus flowers oolong tea, cocoa kernels, chocolate flakes (sugar, cocoa mass, cocoa powder), roasted mate, blackberries, and more.
See full list of ingredients
Product Reviews