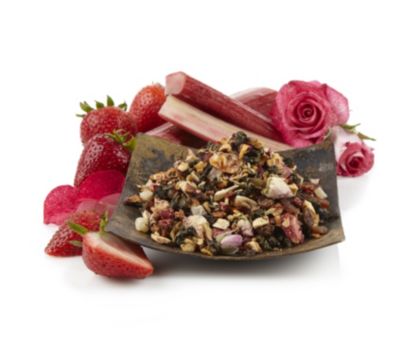 Strawberry Blush Rosé Oolong Tea
price reflects 2oz (25-30 teaspoons per 2oz)
Product Rating
Description
This French-inspired flavored oolong tea features luscious strawberries, pink rose buds, crisp rhubarb, white grapes, soft vanilla, and a hint of bubbly champagne. Deliciously romantic, it's a sumptuous combination that sparkles on the palate, conjuring up dreamy days ambling along Épernay's rolling vineyards and valleys.
Tasting Notes
Lush strawberry and soft rose sparkle in perfect balance alongside vibrant notes of white grape
$12.98
Availability:
In Stock
How to Steep / Ingredients
Use 1-1.5 tsp of tea per 8oz of water. Heat water to just before boiling (195 degrees/90 degrees Celsius) and steep for 3 minutes. For stronger flavor, use more tea leaves. 2oz of tea equals 25-30 teaspoons.
Ingredients
:Oolong tea, apple pieces, grapes, pineapple pieces (pineapple, sugar, citric acid), flavoring (champagne, strawberry, rhubarb, vanilla, peach, rose, tangerine, grapefruit), fennel, and more.
See full list of ingredients
Product Reviews