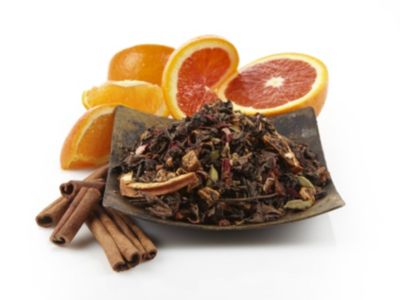 Spiced Mandarin Oolong Tea
price reflects 2oz (25-30 teaspoons per 2oz)
Product Rating
Tasting Notes
Bright
citrus
notes with well-balanced spice
Description
Journey along the Asian spice trading routes and savor the rich exotic flavors of juicy tangerines, lemons and ripe blood oranges perfectly blended with cinnamon, ginger, star anise, cloves and pepper. With its wonderful mix of sweet citrus fruits and traditional chai spices, this delicious flavored Chinese oolong tea is destined to become an everyday favorite.
Bright
citrus
notes with well-balanced spice
SALE! Save 75 % $2.50
Availability:
In Stock
How to Steep / Ingredients
Use 1-1.5 tsp of tea per 8oz of water. Heat water to 195 degrees (90 degrees Celsius) and steep for 3 mintues. For stronger flavor, use more tea leaves. 2oz of tea equals 25-30 teaspoons.
Ingredients
:
Dark oolong tea
,
cinnamon
, hibiscus flowers, apple bits, carob bits, ginger, natural and artificial flavoring,
citrus
slices, orange juice bits, pepper, and more.
See full list of ingredients
Product Reviews
Aromatic (33)
Smooth body (16)
Fresh (13)
Soothing (12)
High quality (10)
Weak (10)
Bitter (9)
Artificial taste (4)
Afternoon (13)
Anytime (13)
Morning (11)
Evening (9)
Dessert tea (5)
Tea Body:
Medium (24), Full (6), Lightweight (3)

Tea Flavor:
Citrusy (35), Spicy (23), Fruity (12)

Reviewer Profile:
Tea enthusiast (27), Health conscious (11), High-end shopper (4), Occasional tea drinker (3)
Anytime
Medicinal Purposes
I personally find this to be one of my favorite teas! If a fair amount is steeped is holds a strong spicy sweet and fruity flavor. I typically use this when I am congested because it helps clear my sinuses and throat. However, this tea is great for any time of day or occasion and is just as good iced (reminds me of orange juice)!
Comment on this review
Aromatic
Unique Flavor Profile
Artificial Taste
Bitter
Cardamon
Weak
I came into a shop the other day and asked if they could recommend a black, spiced tea with orange. they gave me this. when i smelled the tea, it smelled amazing, just what i was looking for to replace my dwindling supply of another blend, from another place. problem started when i got home and brewed the stuff. there's no gentle way to put this so here i go: it smelled like the fruit fairy had just taken a dump in my house; that is to say the smell was overpowering. with all that fruit smell, you'd think it'd really taste like fruit, right? all I can say is Cardamom, Cardamom, and even more cardamom. no tea flavors what so ever, slightly bitter, and almost nauseating with the amount of Cardamom in it. on the bright side, there was the slightest hint of juicy fruit (the gum), but i can't honestly tell if it's due to actual flavor, or the overpowering smell.
Tea Body:
Light
Tea Flavor:
Cardamon Cardamon
Comment on this review
Aromatic
High Quality
Unique Flavor Profile
The smell was overwhelming, and I was concerned the cinnamon notes would be over the top. I was surprised that this tea is well balanced. I enjoy it any time of day as it doesn't have much caffeine in it. It smells wonderful, tastes great and has such a pretty color. I prefer this a bit stronger so add a bit more than the serving suggestion.
Tea Body:
Medium
Tea Flavor:
Citrusy, Spiced, Spicy
Comment on this review
Aromatic
Fresh
Smooth Body
Soothing
Unique Flavor Profile
I made my FIRST trip into Teavana on a whim at the mall. I bought this particular tea and thought, " I will never drink anything else ever again!" Well, after reading the ingredient list here.... this probably won't be true. There is Artificial Flavoring, Sugar and Cornstarch in this tea! And YES, I normally eat so CLEAN that it DOES make a difference for me. Also, looking at a few other teas, there are candied fruits (sugar and all), milk powder, and artificial flavoring in many teas listed. I am greatly saddened by this discovery as the Tea Flavor, Appearance and Aroma are all amazing...please, Teavana, make some REAL Tea....maybe organic dried fruits will be just enough!
Tea Body:
Medium
Tea Flavor:
Citrusy, Spicy
Comment on this review
Artificial Taste
Bitter
Too Strong
This tea has a wonderful scent, but is way to strong and bitter once brewed. I recommend tempering it out with some warm or cold water and some honey. which helps tone down the unpleasant bitterness.
Tea Body:
Medium
Tea Flavor:
Citrusy, Fruity
Comment on this review
Artificial Taste
Too Strong
This tastes just like orange spice tea, with a cider-y twist! It's warm and cinnamon-y, with a filling flavor. However, oranges and cinnamon don't blend well in this tea, and I find the flavor to be too powerful and too acidic, making an accidental over-steep or extra tea an absolute tragedy. Even as someone who loves very strong, very aromatic teas, this tea was just WAY too powerful, and the orange flavor (despite the mix having real mandarin orange peels) tasted very, very artificial and gave the tea a bad aftertaste.
Tea Body:
Full
Tea Flavor:
Citrusy, Spicy
Comment on this review
Great fruity tea. I wanted something a green tea, but so long as you don't seep it too long, it won't become bitter and saturated. This tea is great. I love the orange citrus.
Tea Body:
Medium
Tea Flavor:
Citrusy, Fruity
Comment on this review
Aromatic
Energizing
Fresh
High Quality
Like Febreze
Smells great
Smooth Body
Soothing
Tastes great and has a very spiced taste and scent. Has citrusy flavor and scent.
Tea Body:
Medium
Tea Flavor:
Citrusy, Crisp, Fruity, Spiced, Spicy
Comment on this review
Aromatic
Energizing
Smooth Body
Soothing
I purchased this tea on a whim at 50% off in store because I was very excited about how it smelled. The right amount of citrus and spice, and smelled like it would taste tangy but not bitter.

I found the first brewing of this tea to be very very bitter, even with a few rock sugars thrown in. I brewed and steeped according to the instructions and I ended up adding a little more hot water to my cup to tone down the intensity. The second brewing was much better, though still slightly bitter.

I added a stick of cinnamon to the second brewing because the citrus flavor overpowered whatever spice profile was supposed to be in the tea. It improved the taste quite a bit and will probably add it to future brews of this tea. I am tempted to try adding other spices to the brew, as I am disappointed with how overpowering the citrus is.

If you like citrus (though slightly artificial) and don't mind bitterness, then you would enjoy this tea.
Tea Body:
Medium
Tea Flavor:
Citrusy
Comment on this review
This is a very pleasant tea, although it is a bit weak and even more so after the first steep. The flavor leans more toward the citrus side and less toward the spice. The caffeine provides a nice pick me up while the spicy aroma warms and soothes. Not my favorite tea but nice to have around "just in case."
Tea Body:
Light
Tea Flavor:
Citrusy
Comment on this review