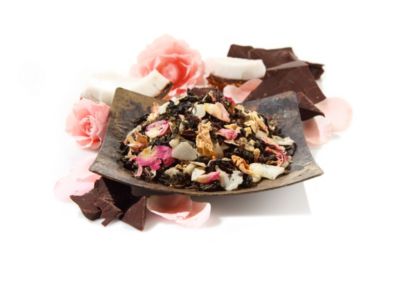 Slimful Chocolate Decadence Oolong Tea
price reflects 2oz (25-30 teaspoons per 2oz)
Product Rating
Description
Drawing inspiration from a decadent warm Hawaiian chocolate cake, this oolong blend is a luxurious mix of creamy toasted coconut, and chocolate flavors. Pink rose petals add romantic icing to this guilt-free treat. A tea feast like never before.
Tasting Notes
Flavors of dark chocolate
with sweet
toasted coconut
SALE! Save 75 % $2.75
Availability:
In Stock
How to Steep / Ingredients
Use 1-1.5 tsp of tea per 8oz of water. Heat water to just before boiling (195 degrees/90 degrees Celsius) and steep for 3 minutes. For stronger flavor, use more tea leaves. 2oz of tea equals 25-30 teaspoons.

Ingredients: Oolong tea, coconut chips, roasted maté, carob pieces, artificial flavoring, liquorice root, rose petals

CONTAINS COCONUT


Product Reviews
Aromatic (43)
Smooth body (28)
Unique flavor profile (27)
High quality (19)
Soothing (18)
Weak (22)
Artificial taste (6)
Bitter (5)
Anytime (27)
Dessert tea (26)
Afternoon (14)
After meals (12)
Evening (12)
Tea Body:
Medium (29), Lightweight (22), Full (8)

Tea Flavor:
Chocolatey (13), Malty (9), Sweet (7), Spicy (5), Chocolate (4)

Reviewer Profile:
Tea enthusiast (44), Health conscious (19), Occasional tea drinker (11), High-end shopper (9), Health nut (4)
I got this tea in a sample set I had gotten after Christmas. I enjoyed this tea the most out of the collection. I quickly ran out and I am going to purchase some more!!
Comment on this review
Artificial Taste
Bitter
Too Strong
I am new to brewed teas and purchased a few to wean me off of so much coffee. The clerk suggested this when I told her I loved my doughnut shop cafe mocha. this is not reminiscent of a mocha...tried this twice adjusting the amount and time to brew. Not getting any chocolate flavor, or really any discernible flavor other than strong tea.
Comment on this review
I tried making the tea two different was, but it was still bitter, even with honey added. I'm going to try mixing it with blueberry tea to see how that works.
Tea Body:
Medium
Tea Flavor:
Spicy
Comment on this review
Aromatic
Unique Flavor Profile
I find the blend the of rose and coconut flavor quite exotic. Interesting flavor, I'm not a fan tho
Tea Body:
Medium
Tea Flavor:
Malty
Comment on this review
Aromatic
Smooth Body
Soothing
This is a very enjoyable chocolately tea. Not hot chocolate, but chocolate tea. I liked the tea on its own, and I love to blend it with My Morning Mate. The Morning Mate is a great AM tea, but the chocolate taste found in Slimful Chocolate Decadence really enhances it. Both have caffiene, so I would suggest that this is best as a morning tea/tea blend.
Tea Body:
Full
Tea Flavor:
Malty
Comment on this review
I keep adding more to my cup and steep a little longer. Can't taste/smell any chocolate. Not that bad but not chocolate or any other flavors. Just a solid black tea.
Comment on this review
No Hint Of Chocolate
Taste Like Black Licorice
Tea Dust
I was not impressed by this tea at all. I was hoping for a chocolate tea. What I received was a gritty tea (lots of tea "dust") that tasted like black licorice (not a flavor I enjoy) with not even a hint of chocolate. I added the rock sugar to it like I do with my other teas, but it did not help. The smell was so strong, my coworker said it smelled like a chemical. She thought there was a gas leak in the building. I have tried it twice now and the second time I brewed for less than three minutes hoping to get less "dust". It didn't help. I will drink it because I don't want to waist my money, but this is not what I expected. I will not buy this again.
Comment on this review
Aromatic
Fresh
High Quality
Love this one in the wintertime with a spicy mate. It's great on it's own, but I love it best blended with milk, honey, and/or rock sugar.
Tea Body:
Medium
Tea Flavor:
Malty
Comment on this review
Aromatic
Energizing
Fresh
High Quality
Smooth Body
After Meals
Afternoon
Morning
this tea is very good...I can taste the chocolate but what I love most about it is that the it doesn't have too much caffeine. There's actually an INCREDIBLE chocolate/orange tea that I love from KUSMI but the downside is that it has soo much caffeine that I cant drink it...it makes me crazy and anxious. THIS chocolate tea from TeaVana is the perfect alternative. I'm pretty thrilled to have found it. Its light and elegant yet flavorful...natural tasting!
Tea Body:
Medium
Tea Flavor:
Chocolatey
Comment on this review
Aromatic
Unique Flavor Profile
This is the perfect chocolate fix for those who want something sweet without the calorie splurge.
Comment on this review