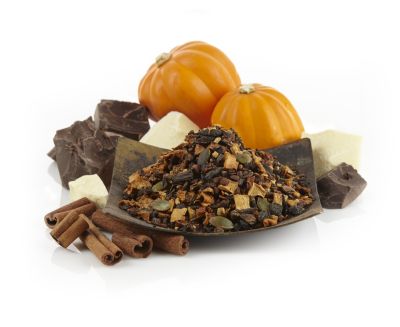 Pumpkin Spice Brulee Oolong Tea
price reflects 2oz (25-30 teaspoons per 2oz)
Product Rating
Description
A bountiful harvest of sweetness and spice, this warming oolong is an impeccable accompaniment to crisp autumn days. A balanced swirl of rich pumpkin and flavors of caramel, toffee, butterscotch, and creamy vanilla, this rich and smooth cup is a sublime indulgence for the body and mind any time of day.
Tasting Notes
Richly sweet + creamy white + dark chocolate meets sweet pumpkin and toffee flavors, an undertone of sweet spice + mocha
$12.98
Availability:
In Stock
How to Steep / Ingredients
Use 1-1.5 tsp of tea per 8oz of water. Heat water to just before boiling (195 degrees/90 degrees Celsius)and steep for 3 minutes. For stronger flavor, use more tea leaves. 2oz of tea equals 25-30 teaspoons.
Ingredients
:Cinnamon, white chocolate pieces (sugar, cocoa butter, milk powder, dextrose), pumpkin pieces, chocolate flakes (sugar, cocoa mass, cocoa powder), carob pieces, oolong tea, and more.
See full list of ingredients
Product Reviews