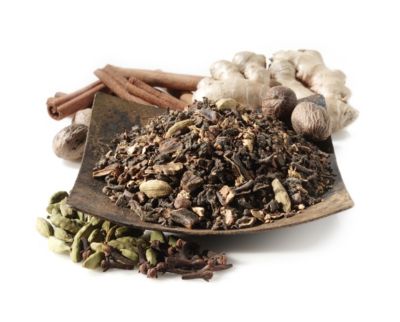 Maharaja Chai Oolong Tea
price reflects 2oz (25-30 teaspoons per 2oz)
Product Rating
Tasting Notes
Robust infusion full of rich spice notes from cinnamon, ginger, pepper and cloves
Description
The rich, heady spices of India mingle with the royal splendor of oolong tea in this blend inspired by the legendary Spice Route. Cinnamon, ginger, cloves, caroband cardamom lead the sensory journey that begins with the first aroma of this robust chai.
Robust infusion full of rich spice notes from cinnamon, ginger, pepper and cloves
$12.98
Availability:
In Stock
How to Steep / Ingredients
Use 1-1.5 tsp of tea per 8oz of water. Heat water to just before boiling (195 degrees/90 degrees Celsius) and steep for 3 minutes. For stronger flavor, use more tea leaves. 2oz of tea equals 25-30 teaspoons.

Ingredients: Cinnamon, oolong tea, ginger pieces, carob pieces, artificial flavoring, chicory root, pepper, cloves, cardamom
Product Reviews
Aromatic (121)
Unique flavor profile (85)
High quality (80)
Soothing (50)
Boosts enegery (48)
Too strong (13)
Weak (4)
Artificial taste (3)
Bitter (3)
Too sweet (3)
Anytime (77)
Morning (53)
Afternoon (39)
Evening (31)
Dessert tea (24)
Tea Body:
Full (96), Medium (31)

Tea Flavor:
Spicy (131), Citrusy (8), Sweet (6), Cinnamon (5), Rich (4)

Reviewer Profile:
Tea enthusiast (106), Health conscious (45), High-end shopper (27), Occasional tea drinker (17), Health nut (16)
Reviewed by 137 customers
Aromatic
DELICIOUS
Great On Its Own
I drink A LOT of Chai, and not all are created equal. This is quite possibly the best Chai I've ever had, including authentic Chai from India. Maybe it's the addition of the Oolong that makes it so good, I'm not sure. But, quite often, I feel, Chai needs a little almond milk to make it less bitter, but this blend was great on its own!
Tea Body:
Full
Tea Flavor:
Spicy
Comment on this review
Aromatic
Clears Sinuses Well
Soothing
Unique Flavor Profile
Let me start by saying I have never drank this tea solo. It has always been mixed into other teas. That being said, I will never let this tea run out at my house, and I use it so often. I have tried this tea with almost every other tea I own. It's perfect if your blend is in need of a little kick, and a little goes a long way because this tea is strong! I've added it to a seasonal apple cider blend, Samurai chai mate, and white ayurvedic chai and they were all delicious. Also, because of all of the spices, it is a great tea for when you're feeling under the weather to clear out your sinuses. I'd imagine it would be a little powerful solo, but blended, I can't recommend this tea enough!

I may not be a tea connoisseur like some of the other reviews, but I know what I like, and this tea is fantastic.
Tea Body:
Full
Tea Flavor:
Spicy
Comment on this review
After Meals
Afternoon
Morning
This tea never disappoints. If you are a chai lover - run, don't walk (or type) and pick up two ounces if you want to give it a try. I even mixed this with a blueberry kona and it was yummy.
Tea Body:
Full
Tea Flavor:
Spicy
Comment on this review
Fresh
High Quality
Smooth Body
Soothing
Comment on this review
Aromatic
Convenient
Energizing
Fresh
High Quality
Unique Flavor Profile
After Meals
Afternoon
Anytime
Medicinal Purposes
I love Teavana!! I just bought another 2 lbs of this tea and just want to clear up for everyone thats concerned over the artificial flavor. FDA says that anything that is not exactly what it is titled to be is "artificial". So teas such as strawberry rose champagne is artificial because it has no champagne in it .. maharaja has nothing that is maharaja-ish in it etc. much better then store bought floor dust they have the nerve to sell ..
Tea Body:
Full
Tea Flavor:
Spicy
Comment on this review
Aromatic
High Quality
Soothing
Unique Flavor Profile
Chai-spiced tea is meant to be spicy. Thank you for honouring the tradition with this blend. For those who think they're chai lovers, but always go for the spice-less, artificially enhanced syrups and powders, try this for the real thing. You should add the remaining ingredients to the description here though (chicory etc.), as that does make a significant difference in consumer choice.
Tea Body:
Medium
Tea Flavor:
Malty, Spicy
Comment on this review
Aromatic
Unique Flavor Profile
Artificial Taste
Unbalanced
Weak
Smells divine. However I was disappointed with the flavour. Watery with tons of spice and not enough of the tea flavour. I drink very dark Chai Tea and like it dark and strong with tea flavour and the spices. WAY TOO MUCH CINNAMON! If that is the artificial flavour STOP IT! I have been given Chai tea blends another store and cannot drink them even after taking out all the cinnamon bark. Way too much cinnamon and not enough of the other flavours. Unbalanced. More tea less cinnamon! I love cinnamon by the way.
Tea Body:
Medium
Tea Flavor:
Spicy
Comment on this review
Aromatic
Energizing
Soothing
Unique Flavor Profile
I've been an avid tea drinker nearly my whole life but have never tasted anything quite like this before. The salesperson at my local Teavana told me it was the tea of the month and highly recommended it. When she opened up the container and let me take a whiff, I was in love. It had all the spicy notes that I love in a tea.
It was suggested that I use one level teaspoon per cup. In my opinion, that was way too strong. I used about 2/3 of a teaspoon and the flavor was perfect. It has definite notes of spice, ginger and citrus that blend together to make the perfect energizing morning tea. When I reuse the leaves for a second brewing, I actually enjoy it more. The second cup seems to be smoother and more mellow - perfect for the afternoon. I would definitely purchase this again.
Tea Body:
Full
Tea Flavor:
Citrusy, Spicy
Comment on this review
Aromatic
Energizing
Fresh
High Quality
This specific tea is wonderful. I recevied it as a gift for my birthday and was I in for a treat.

The aroma right off the back was appealing and once I brewed the tea and begin to sip, the taste was astonishing. I will say, the tea is a bit strong, but great taste for a morning kick; I trule enjoyed this product and will purcahse it again.
Tea Body:
Full
Tea Flavor:
Spicy
Comment on this review
Energizing
Fresh
Smooth Body
Unique Flavor Profile
This was my first oolong, using the PerfectTea infuser I was able to brew a cup quite successfully. Initially I found this in the store as a blend but due to money constraints only bought this; I can see why the blend was so tasty, the strength of this tea on its own is (almost) overwhelming. Definitely one to sip, the spices linger pleasantly on the tongue.

The cinnamon is definitely present but in my opinion simply adds to and doesn't obscure the other spices included. However, if you're sensitive to strong spices you might want to temper this by blending it (the one in the shop used Samurai Chai Oolong), adding milk/cream, or perhaps using less leaves.

While I do enjoy this tea, the full body is a bit of a knockout and not necessarily something I'd want every day. However, it adds its own pep to my day - the rich combination of spices are very energizing.
Tea Body:
Full
Tea Flavor:
Spicy, Strong, Sweet
Comment on this review