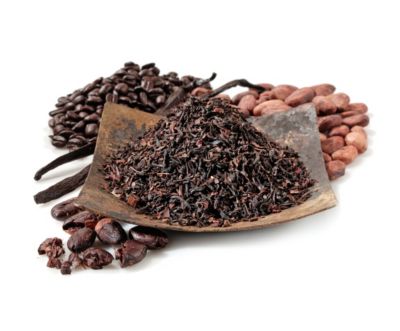 JavaVana Mate Tea
price reflects 2oz (25-30 teaspoons per 2oz)
Product Rating
Tasting Notes
Rich
coffee
-like infusion with creamy
cocoa vanilla
overtones
Description
We created this rendition of a mocha cappuccino especially for coffee lovers. Bold black Assam tea and multi-fired maté merge with chocolate and cappuccino, and a touch of creamy vanilla.
Rich
coffee
-like infusion with creamy
cocoa vanilla
overtones
$6.98
Availability:
In Stock
How to Steep / Ingredients
Use 1.5-2 tsp of tea per 8oz of water. Heat water to just at boiling (208 degrees / 98 degrees Celsius) and steep for 5-6 minutes. For stronger flavor, use more tea leaves. 2oz of tea equals 25-30 teaspoons.

Ingredients: Assam black tea, roasted maté, cocoa pieces, natural and artificial flavoring, vanilla pieces
Product Reviews
Aromatic (75)
Smooth body (66)
Unique flavor profile (46)
Boosts enegery (44)
High quality (42)
Weak (22)
Bitter (9)
Artificial taste (7)
Too strong (3)
Morning (90)
Anytime (33)
Afternoon (26)
Gifts (14)
Dessert tea (10)
Tea Body:
Full (46), Medium (43), Lightweight (10)

Tea Flavor:
Malty (31), Chocolatey (15), Spicy (14), Nutty (9), Vanilla (7)

Reviewer Profile:
Tea enthusiast (80), Health conscious (40), High-end shopper (28), Health nut (14), Occasional tea drinker (10)
Reviewed by 109 customers
Artificial Taste
Bitter
Too Strong
Tastes like chocolate water. Very disappointed with the product. Threw it away!
Comment on this review
Aromatic
Energizing
High Quality
Smooth Body
Unique Flavor Profile
I really enjoy this tea anytime. I prefer it hot rather than iced. People who give it a low rating because it doesn't taste just like coffee have missed the point. It's not supposed to taste just like coffee. It's a unique tea.
Tea Body:
Full
Tea Flavor:
Malty, Nutty
Comment on this review
Big Boost Of Caffeine
Unique Flavor Profile
Artificial Taste
Bitter
Too Strong
I'll try any mate, and have found they all take some getting used to. This is the first one that I didn't take to, and that was after eight ounces. I can taste the assam tea, but not the mate. Or the chocolate, for that matter. I honestly wanted to like this tea; it sounded like it was right up my alley. Sadly, this was not the case. I'll stick with the other mates.
Tea Body:
Medium
Tea Flavor:
Malty
Comment on this review
Aromatic
Energizing
High Quality
Breaking free from a coffee addiction, a Teavana employee recommended this to me years ago and I've loved it ever since. My perfect cup of tea for most mornings.
Tea Body:
Medium
Tea Flavor:
Chocolate, Chocolatey, Spicy, Vanilla, vanilla-y
Comment on this review
Aromatic
Energizing
Fresh
High Quality
Smooth Body
Unique Flavor Profile
Afternoon
Dessert Tea
Morning
I usually only drink Spanish espresso coffee (2 cups min), but I've been looking for a variety that will energize me with a flavor burst like my espresso. JavaVana is it! It is my chocolate fix, my pick me up, and the smell is like "floating on a cloud mini-vacation". I love this tea and have added it to my weekly routine. :-D
Tea Flavor:
Chocolaty, flavorful, Smooth
Comment on this review
Love to take this tea as my mid-morning picker upper, taste coffee-chocolaty-ish and just enough to keep you going.
Comment on this review
Coffee Substitute
Energizing
Soothing
I had never tried a chocolaty-tasting tea before and was a little nervous about it since I am a avid chocolate lover. I drank a cup after lunch and immediately brewed more. It's satisfies my chocolate craving and is a great substitute for dessert. I also love my coffee but do not drink much of it anymore as it sometimes bothers my stomach, so this tea is also a good coffee replacement.

Love it! Will be keeping this in stock.
Tea Body:
Medium
Tea Flavor:
Chocolaty, Malty
Comment on this review
Aromatic
Energizing
Smooth Body
Soothing
I've been trying to quit going to a cafe so often for my morning coffee. This mate has made it SO much easier. Delicious with a little bit of vanilla creamer!
Tea Body:
Full
Tea Flavor:
Creamy, Spicy
Comment on this review
I got this in the 12 days Sampler...The first sip seemed good, but as I got down to the bottom of the cup, I just kept having this bad aftertaste in my mouth. The last teavana tea, the flavors weren't so artificial, in this one you can definitely taste the artificial flavors and not in a good way either. It tastes like a bad cup of coffee that has been sitting around in the pot all day. I just think it's my preference that coffee and tea do not go together.
Comment on this review
I am NOT a coffee drinker - in fact I don't like coffee - BUT I LOVE this tea as a blending tea. I was about ready to toss some of the teas I own (Chai Yen Thai and Nut Crème Brulee) then decided to try blending with this. Ahhhhh - PERFECT! I brew the mate for 2 minutes then add the other tea for another 3 minutes, pour over 1/2 and 1/2 and add a bit of local honey. Ahhh - I love morning! A teavana store gave me an awesome recipe with the mate, white chocolate peppermint and mint cacao black, cream and sugar - tests exactly like a thin mint. Heaven in a cup! This is a MUST HAVE blending tea.
Comment on this review