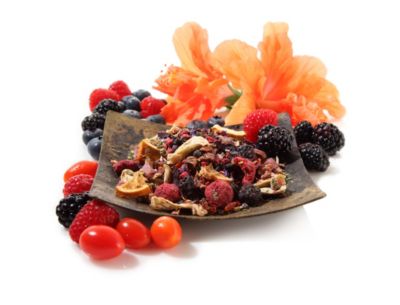 Acai Matetini Mate Tea
price reflects 2oz (25-30 teaspoons per 2oz)
Product Rating
Description
Our take on a "mocktail" blends açaí, blueberry, raspberry, blackberry and hibiscus with apples and sweet pineapple. A zesty citrus twist of lemon grass and orange brightens the mix. Cheers!
Tasting Notes
Crisp & sweet
berries
, followed by sweet
pineapple
& finished with
minty
undertones
$7.98
Availability:
In Stock
How to Steep / Ingredients
Use 1.5-2 tsp of tea per 8oz of water. Heat water to just at boiling (208 degrees/98 degrees Celsius) and steep for 5-6 minutes. For stronger flavor, use more tea leaves.
Ingredients
:Hibiscus, apple pieces, candied pineapple pieces (pineapple, sugar), rosehip peels, black chokeberries, green mate, blueberries, blackberries, elderberries, pineapple chips, and more.
See full list of ingredients
Product Reviews