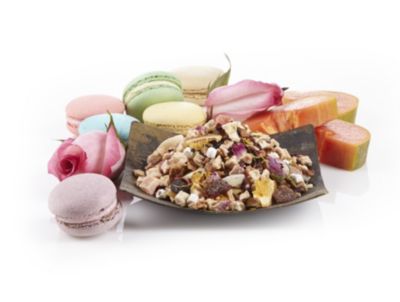 Marshmallow Macaron Herbal Tea
price reflects 2oz (25-30 teaspoons per 2oz)
Product Rating
Description
Fragrant as a Parisian patisserie on a Sunday morning, this sweet, baby pink infusion is an herbal cup ideal for cloud gazing the day away. Fluffy mini marshmallows float on a dreamy cloud of apple, raisin, sweet papaya, and toasted coconut swirls.
Tasting Notes
Luscious tropical
papaya
balanced with bright
hibiscus
and orange with sweet, creamy
marshmallows
and coconut
$7.98
Availability:
In Stock
How to Steep / Ingredients
Use 1.5-2 tsp of tea per 8oz of water. Heat water to just at boiling (208 degrees/98 degrees Celsius) and steep for 5-6 minutes. For stronger flavor, use more tea leaves. 2oz of tea equals 25-30 teaspoons.
Ingredients
: Apple cubes (apple, citric acid), apple pieces, candied
papaya
pieces (papaya, sugar, citric acid, rice flour), raisins,
hibiscus flowers
, toasted coconut chips,
See full list of ingredients
Product Reviews