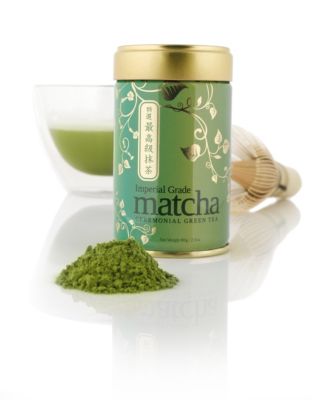 Matcha Japanese Green Tea
Product Rating
Description
Thoughtfully harvested and handcrafted, our pure, organic Imperial Grade Matcha is made from the highest-quality ingredients available, providing outstanding flavor while promoting feelings of focused vitality.

80 grams
$44.95
Availability:
In Stock
How to Steep / Ingredients
Traditional brewing
:
Warm the Matcha bowl and whisk/chasen by setting the whisk in the bowl and adding hot water. After a minute, discard water
Place 1tsp Matcha (2 bamboo chashaku tea scoops) in bowl. Pour in 4oz of hot water (175-185 degrees)
Rapidly stir until a fine foam appears on the surface.
Contemporary Brewing (thin tea)
Use 1tsp Matcha per 8oz of hot water (175-185 degrees)
Whisk with bamboo chasen, milk frother or shake (if using water bottle) until a fine foam appears
Ingredients
: Tencha green tea
Product Reviews