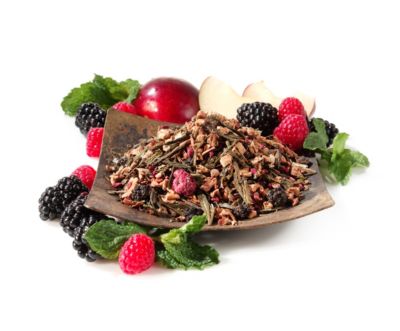 Blackberry Mojito Green Tea
price reflects 2oz (25-30 teaspoons per 2oz)
Product Rating
Description
This refreshing flavored green tea perfectly captures the Latin-inspired minty mojito cocktail by combining succulent blackberries and raspberries with a spearmint kick.
Tasting Notes
Blackberry
highlights with
raspberry
notes and a light
spearmint
kick
$7.98
Availability:
In Stock
How to Steep / Ingredients
Use 1-1.5 tsp of tea per 8oz of water. Heat water to 175 degrees (79 degrees Celsius) and steep for 2 minutes. For stronger flavor, use more tea leaves. 2oz of tea equals 25-30 teaspoons.

Ingredients: Apple pieces, green tea, hibiscus flowers, rose hip peels, artificial flavoring, raspberry pieces, blackberries, spearmint, cactus blossoms, plum pieces (plum, rice flour), raspberries
Product Reviews
Aromatic (72)
Fresh (47)
Unique flavor profile (45)
Smooth body (28)
High quality (23)
Weak (16)
Artificial taste (13)
Too strong (5)
Bitter (3)
Anytime (57)
Afternoon (20)
Morning (15)
Evening (14)
Gifts (10)
Tea Body:
Medium (49), Lightweight (25), Full (14)

Tea Flavor:
Fruity (88), Citrusy (14), Minty (5)

Reviewer Profile:
Tea enthusiast (69), Health conscious (34), High-end shopper (22), Occasional tea drinker (16), Health nut (8)
Aromatic
Energizing
Fresh
Unique Flavor Profile
Bitter-brew Wcare
Bitter-brew W Care
If brewed carefully, it is really delicious hot or cold
Tea Body:
Medium
Tea Flavor:
Fruity
Comment on this review
Used twice the recommended amount of tea and it still tasted a bit weak. The berry flavor really pops, but there is absolutely no natural sweetness.
I like to sip a nice tea as a snack, this is more like a beverage to accompany a meal.
Tea Body:
Light
Tea Flavor:
berry
Comment on this review
I tried this tea on a whim. On the first sip it's refreshing, fruity and sweet. Unfortunately, the cough syrup like lingering after taste makes this a tea I will not likely buy again.
Comment on this review
Aromatic
Energizing
Fresh
High Quality
I got this tea and was very hesitant to try it. I was delighted by this tea. It is delicious. The mint and blackberry work extremely well with the green tea flavor. However I did have to increase the serving suggestion because is was fairly weak, and I am a fan of weak tea. I did enjoy it. I thought it was a tasty tea and it goes to one of my favorites
Tea Body:
Medium
Tea Flavor:
Fruity, Vegetal
Comment on this review
This is my favorite tea so far! The only thing that would make it better is if it had a stronger taste.
Comment on this review
Aromatic
Fresh
High Quality
Smooth Body
Soothing
Unique Flavor Profile
I've studied a great deal in mixology, and I this tea tastes very similar to what a real Blackberry Mojito tastes like. It's nowhere near spot on because the notes of lime aren't there, the delicacies from muddling and adding rum... it's a completely different flavour profile. However, if that flavour could translate over into a green tea, I'd say Teavana came as close as they could. Though I do think a hint of citrus (lime in particular) would take this tea from 4 stars to 5.
Tea Body:
Medium
Tea Flavor:
Fruity, Slight spice
Comment on this review
I don't typically like teas that are "berry" flavored for whatever reason, and while this one isn't my favorite for that reason, the spearmint is what caught my attention. It's a very good tea, and I love the mojito kick - I'm just not a berry person.
Tea Body:
Medium
Tea Flavor:
Fruity
Comment on this review
This is great for iced tea, but I prefer a spicier blend for a hot tea.
Tea Body:
Full
Tea Flavor:
Fruity
Comment on this review
Aromatic
Unique Flavor Profile
Artificial Taste
Too Strong
I tried the tea hot, it was a little too "fruity" strong for me, I would like the mint notes to come out a bit more, and maybe I used too much tea or let it steep too long since I like my tea strong but it had a weird aftertaste. It is good iced if you like a fruity iced tea and you can't beat the benefits of drinking green tea!
Tea Body:
Medium
Tea Flavor:
Fruity
Comment on this review
Aromatic
Fresh
High Quality
Smooth Body
I never liked tea until I tried a sample of the Blackberry Mojito tea in a Teavana store. It has become my addiction now! I was going to the mall (8 miles away) just to buy one all too often. My husband bought me the Perfect TeaMaker for at home so I can save money and make my own. Just finished my canister of tea and have my daughter buying me more today. Seriously love this stuff! I honestly do not taste mint too much at all. I have a very sensitve palate.
Tea Body:
Medium
Tea Flavor:
Fruity
Comment on this review