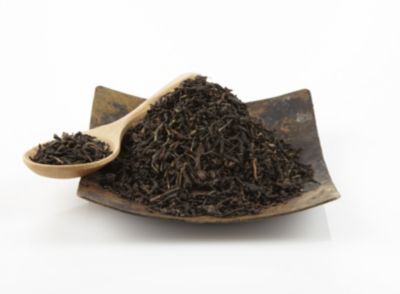 Yunnan Golden Pu-erh Tea
Price reflects 2oz (25-30 teaspoons per 2oz)
$7.80
Product Rating
Description
Legend has it that pu-erh black tea was made famous given as a dowry by Chinese Princess Wencheng in 641AD. Subsequently, Emperor Daoguang granted pu-erh as the 'Divine Tribute to the Kingdom of Heaven' and was considered a tribute tea in 1839AD. After drying, the tea undergoes and additional fermentation process, which activates enzymes and provides and elegant earthy flavor. Ours is a rich loose-leaf pu-erh carefully blended with a high-grade Yunnan black tea. Well- balanced, smooth and mellow, the cup finishes with a noble floral note.

Robust but elegant earthy notes with a smooth and mellow, sweet finish
Preparation / Ingredients
Product Reviews
Smooth body (5)
Aromatic (4)
Fresh (3)
Soothing (3)
Unique flavor profile (3)
Tea Body:
Full (4), Medium (4)

Tea Flavor:
Earthy (5), Malty (4)

Reviewer Profile:
Tea enthusiast (5), High-end shopper (3)
Aromatic
Fresh
Unique Flavor Profile
This tea is very strong, which is something I like. It has an earthy flavor without being bitter. Tastes great hot or iced with the german rock sugar. It is my new favorite black tea and the whole family loves it.
Tea Body:
Full
Tea Flavor:
Earthy
Comment on this review
Bitter
Strange After Taste
i like this alot but found it bitter.. even with sugar it was bitter... but none the less... awesome tea
Comment on this review
Aromatic
Convenient
Energizing
Fresh
Great for ICED Tea
High Quality
Strong
Unique Flavor Profile
Afternoon
Anytime
Evening
Morning
This is a good tea, definitely. I do love my black teas, so if you're not really into black tea that much or if you don't like your tea to be too strong then this might not be for you.

It's very strong (which I like) and it definitely has a unique flavor unlike most other black teas.

Is it worth the money I paid for it? It is. It's not my favorite, but I do like to have a variety when it comes to my black teas and this one was definitely worth the money I paid for it.

Also I really don't drink iced tea but if you like iced tea then this one is perfect for icing.

While I put "yes I would recommend" I really would only recommend it if you really dig your black teas. If you don't but are looking for a black tea, the dragon pearls or celestial black teas are magnificent.
Tea Body:
Full
Tea Flavor:
Earthy, Malty, Strong
Comment on this review
I have always loved oolong tea, but this has a much bolder flavor. And you can't go wrong with the added benefits of weight loss.
Comment on this review
Aromatic
High Quality
Smooth Body
Soothing
This is a really good black tea. Pu-erh is a really nice quality tea with a rich, earthy flavor. I wanted to get a black tea to use as an afternoon tea, as the only other black teas I have are Earl Grey and English Breakfast, which I use for mornings. This one is perfect. It tastes similar to English Breakfast, only smoother and not as bitter. Some of Teavana's other teas are weak, and I was delighted to know that was not the case with this tea. Very full and rich flavor. Definitely the kind of tea you want with lunch or to mellow out and definitely will remain part of my collection.
Tea Body:
Medium
Tea Flavor:
Earthy
Comment on this review
As this is a Yunnan unfermented black and pu-erh blend, I find that while it is an enjoyable cup of tea, the pu-erh does not come through as much as I would like. First steep yields a dark reddish copper liquor, almost opaque. Relatively low astringency, smooth maltiness at the back of the tongue and a subtle earthy, mushroom-like flavor at the soft palate described more aptly as smelled than tasted. Clean finish. Takes well to a second steeping - a little lighter and sweeter the second time around. Nice if you like slight astringency, but as I prefer a smooth-as-butter pu-erh, perhaps next time I will brew for a minute shorter and with an extra teaspoon (I did 1 tsp/8oz and 3 min steep.) Overall a very "soft" cup of tea with a nice round mouthfeel, but I prefer my pu-erh to taste much bolder and richer, like I've licked a forest floor.
Tea Body:
Medium
Tea Flavor:
Earthy, Malty, Mineral, Slightly sweet
Comment on this review
Smooth Body
Unique Flavor Profile
I really enjoyed this tea. I am not a black tea person, but pu-erh tea oddly enough agrees with me. It is milder and not as earthy as some, excellent if you're not a black tea fan like myself.
Tea Body:
Full
Tea Flavor:
Earthy, Malty
Comment on this review
Aromatic
Smooth Body
Soothing
great tea, I really like the flavor, this is the first Pu-erh i've ever had and I really enjoy it. Makes a nice morning tea.
Tea Body:
Medium
Tea Flavor:
Malty
Comment on this review