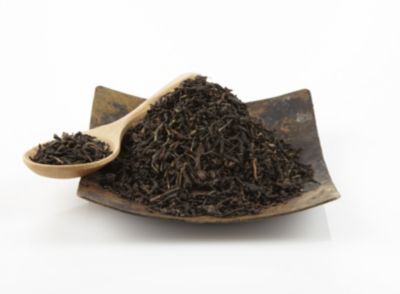 Yunnan Golden Pu-erh Tea
price reflects 2oz (25-30 teaspoons per 2oz)
Product Rating
Description
After drying, the tea undergoes an additional fermentation process that provides an elegant earthy flavor. Our rich, loose-leaf pu-erh is carefully blended with a high-grade Yunnan black tea. Well-balanced, smooth and mellow, the cup finishes with a noble floral note.
Tasting Notes
Robust but elegant
earthy
notes with a
smooth
and
mellow sweet
finish
$7.98
Availability:
In Stock
How to Steep / Ingredients
Use 1-1.5 tsp of tea per 8oz of water. Heat water to 195-205 degrees (90-96 degrees Celsius) and steep for 2-3 minutes. For stronger flavor, use more tea leaves. 2oz of tea equals 25-30 teaspoons.

Ingredients: Pu-erh black tea
Product Reviews
Smooth body (16)
Aromatic (14)
High quality (9)
Unique flavor profile (9)
Soothing (6)
Anytime (12)
Morning (11)
Afternoon (8)
After meals (7)
Tea Body:
Full (18), Medium (10)

Tea Flavor:
Earthy (15), Malty (14), Smokey (3)

Reviewer Profile:
Tea enthusiast (21), High-end shopper (8), Health conscious (7)
Good Color
Unique Flavor Profile
I was excited to try Pu-erh when I saw it in the store. It was my first time. When I brewed it, it smelled of fish. I asked my relatives to smell it for me and they also said it smelled of fish. The brewed liquid has a beautiful reddish color but a pungent fishy smell. It was bland, though I could taste why this tea is different from other black teas. I honestly regret buying this tea. I will use the Pu-erh I have left to make Masala Chai. Hopefully the spices will kill the fishy smell.
Comment on this review
As many have stated, this tea smells fishy while steeping. Worse, it tastes fishy. I wish I would have read the reviews before purchasing this tea.
Comment on this review
I wish I would have read the reviews before purchasing this tea. It smelled and tasted like long dead fish. I am still trying to get the taste out of my mouth.
Comment on this review
Aromatic
Full Flavour
High Quality
Smooth Body
Soothing
After Meals
Anytime
Medicinal Purposes
If you have never tried straight Pu erh tea before, this is a great way to start into that world. It is mixed with black tea because both provide full, dark and rich flavours. The black tea actually mellows the strength of pure Pu erh which through its fermentation process picks up a lot of earthy undertones. A lot of Pu erh tea comes in compressed bricks and balls and some of the higher grade "vintages" have been stored and used for over a century. This being already pulled apart and exposed to air means that the ageing and flavour profile of the actual pu erh will change and develop much more quickly than that of the brick you may, or may not have recognized in the Chinese markets. Keep this one sealed tightly in a tin to avoid flavour changes. Not that the change will necessarily be bad, it will just maintain the tea closer to the way you first tried it. This is a unique tea flavour and may not be for everyone, but I certainly enjoy it.
Tea Body:
Full
Tea Flavor:
Earthy, Malty
Comment on this review
We have been purchasing tea from Teavana for about three years. Some of the teas we like better than others but we have tried between 20 - 30 different kinds. When I brewed this for the first time I though it smelled like fish oil and amazingly enough it tasted like it as well. I drank maybe 25% of the cup and poured it out. I thought two cups of the Spiced Apple Cider tea would kill the fishy taste, but two hours later I can still taste it.

This one is not for me.
Comment on this review
Aromatic
Pleasant Aftertaste
Smooth Body
After Meals
Afternoon
Morning
First off, this tea is mostly black tea--less than half is pu-er. Thus, it's flavor is primarily that of a Chinese black tea, slightly mellowed by the pu-er. It's less astringent and a little more bodied than an everyday black tea, but it's flavor is seriously lacking compared to any pu-er. It holds up for several infusions, but no other flavors develop, and after only four to six infusions it becomes very bland, losing it's slightly smokey aftertaste that I would peg as it's main appeal.

Overall, for the price it's a decent alternative to some plain black teas, but I couldn't recommend it as a pu-er.
Tea Body:
Medium
Tea Flavor:
Earthy, Lightly smokey, Malty
Comment on this review
Smooth Body
Unique Flavor Profile
This tea is one of the best black teas I have ever tried. Is it my favorite? Maybe...but it is definitely unique enough to keep buying. I love full-bodied, flavorful, strong black teas...and this one fits the bill without the gross aftertaste. Its not a pu-erh, but the earthy and smokey notes come through with this tea. The sweet notes at the end make it perfect for anytime!
Tea Body:
Full
Tea Flavor:
Earthy, Smokey, Vegetal
Comment on this review
Aromatic
Convenient
Smooth Body
I quite enjoyed this blend. bought it to get a feel of what pu erh is like and I think I've got an idea of its grassy, earthy flavour. It is heavily blended with black tea and honestly I feel the black is a bit overpowering. Much of what I tasted and felt was from the black tea, however there is still a bit of (I think) pu erh flavour that sticks out and adds on a nice touch to the overall taste & smell. Buying a full pu erh cake can also be quite a risk if you end up not liking it. However, I'm now motivated to actually buy some real pu erh and try them.
Tea Body:
Full
Tea Flavor:
Earthy, Malty
Comment on this review
Buy a drink to try this before buying, it has a strong scent and is not easily overcome. It smells too much like fish to me for it to be appetizing.
Tea Body:
Full
Tea Flavor:
Fermented
Comment on this review
Smooth Body
Unique Flavor Profile
Have read all reviews. This is good puerh! Have tasted all kinds of puerh teas. I always make it the same way, in a small clay pot, and this puerh tastes just like other puerh. Am happy to find a store 2 miles from me, instead of having to drive 2 hours. Puerh (like wine) comes in many grades and qualities. Excellent for digestion, internal organs and triglycerides.
Tea Body:
Medium
Tea Flavor:
Earthy
Comment on this review