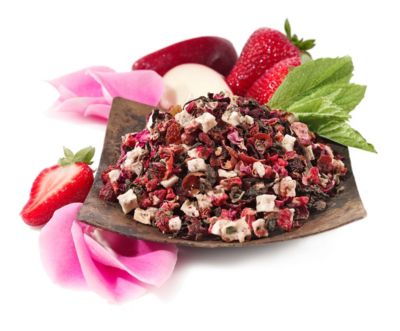 Weight To Go! Pu-erh Tea
price reflects 2oz (25-30 teaspoons per 2oz)
Product Rating
Tasting Notes
Complex flavors of
strawberry
,
apple
, and
hibiscus
are followed by refreshing
mint
Description
Enticing and tantalizing, this rosy blush blend of pu-erh black and green oolong teas merge to create an intoxicating mix of sweet fruit with bright mint. Sweet strawberries and golden delicious apples swirl into peppermint and spearmint and create guilt-free beauty inside and out.
Complex flavors of
strawberry
,
apple
, and
hibiscus
are followed by refreshing
mint
$9.98
Availability:
In Stock
How to Steep / Ingredients
Use 1-1.5 tsp of tea per 8oz of water. Heat water to 195-205 degrees (90-96 degrees Celsius) and steep for 2-3 minutes. For stronger flavor, use more tea leaves. 2oz of tea equals 25-30 teaspoons.

Ingredients: Pu-erh tea, oolong tea, rose hip peels, apple pieces, strawberry pieces, hibiscus flowers, rose petals, spearmint, beetroot pieces, peppermint, artificial flavoring
Product Reviews
Aromatic (122)
Fresh (102)
Unique flavor profile (79)
Smooth body (72)
High quality (69)
Weak (19)
Artificial taste (10)
Bitter (6)
Anytime (100)
Morning (46)
Afternoon (34)
Gifts (14)
After meals (11)
Tea Body:
Medium (82), Lightweight (33), Full (18)

Tea Flavor:
Fruity (141), Citrusy (29), Minty (27), Vegetal (8), Spicy (7)

Reviewer Profile:
Tea enthusiast (105), Health conscious (79), High-end shopper (33), Occasional tea drinker (22), Health nut (19)
Reviewed by 155 customers
This tea is seriously one of my favorites. It blends well with To Life White, and I've found that even if I don't blend it with another tea, it tends to be more flavorful if I steep it at the lower temperature. At the higher temp recommended for Black teas it can be a little bitter.
Comment on this review
Convenient
Energizing
Unique Flavor Profile
Afternoon
Medicinal Purposes
Morning
I bought this because I love pu-erh tea, but I don't think it mixes with strawberry very well. The earthiness of the pu-erh really clashes with the strawberry and the artificial flavoring when hot. However, to my great surprise it totally works when iced. I'm glad I didn't throw it out!!
Tea Body:
Medium
Tea Flavor:
Artificial, Earthy, Fruity
Comment on this review
Aromatic
Fresh
Smooth Body
Soothing
Unique Flavor Profile
After Meals
Afternoon
Anytime
Dessert Tea
Evening
Gifts
Medicinal Purposes
Morning
I am rather picky when it comes to teas in general. This tea is very fragrant fruity tea. the taste is very mild , light and refreshing. If you do not like light teas this tea is not for you. but if you like all teas and are wanting to try something new this tea is a good one . I will be buying this tea again very soon!!!
Tea Body:
Light
Tea Flavor:
Fruity, Vegetal
Comment on this review
I really enjoy the light flavor of this tea
Tea Body:
Light
Tea Flavor:
Fruity
Comment on this review
Aromatic
Cheap
Unique Flavor Profile
Artificial Taste
Bitter
Weak
I am recently making the switch from coffee to tea so I've been ordering something new every week. I was very excited to try this. I finally got it only to find that while the smell was very refreshing, the initial first sip was rather weak and was followed with an unusual bitter after taste. I've tried making it with less tea leaves and more tea leaves. The honest fact is while it was relatively inexpensive, you have to use a lot more tea to water to get a taste, so you are still paying a lot for this tea. It isn't horrible, but it isn't really worth the wait.
Tea Body:
Light
Tea Flavor:
Bitter, Fruity
Comment on this review
Aromatic
Energizing
Fresh
Smooth Body
Soothing
After Meals
Evening
Morning
I was surprisingly enjoyed this tea. I originally bought this for a health conscious friend, and we agreed to try it together. I usually go for the stronger, earthy black teas, so I was surprised when I was fond of this fruity brew. It was energizing, light, slightly sweet, and a bit citrusy. Would buy again.
Tea Body:
Light
Tea Flavor:
Citrusy, Fruity
Comment on this review
I love Teavana teas in general, but have recently been disappointed with their use of artificial ingredients. This tea is slightly sweet with a bit of fruity flavor and just a hint of mint. -Also smells wonderful!- And could easily be just as good, if not better, without the artificial junk. I expect more from you Teavana! This tea is awesome both hot and iced, although I tend to prefer it iced. The "cleansing" properties are apparent after drinking this tea, but are not harsh or uncomfortable. The one other con I have with this tea is that it is nowhere near as good on the second cup, unless you used much more than the normal amount of loose tea to begin with. So besides being more of a one cup tea and the artificial flavoring, I do really enjoy this tea and have a feeling it has become a new staple.
Tea Body:
Medium
Tea Flavor:
Fruity, Slightly minty
Comment on this review
This tea does taste as it is described in the product listing: fruit + mint. After trying it, I've determined this is not a flavor profile for me. I'd prefer the fruit without the mint.

This tea is also rather weak; I'd prefer a stronger black tea. With some flavored black teas, I can barely see the bottom of my cup. This one is more translucent.

My other problem with this tea is how small the tea leaves are. A lot more of this tea slips out of my infuser than other Teavana products. Some of it floats on top of the tea, so I end up drinking tea leaves.

If minty fruit and drinking tea leaves don't bother you, give this one a try.
Tea Body:
Medium
Tea Flavor:
Fruity, Minty
Comment on this review
Aromatic
Fresh
High Quality
Smooth Body
Unique Flavor Profile
Love this tea for its yummy flavor profile. I was concerned, as another reviewer was, that the mint would be overwhelming but it was not. the aroma was very pleasant and I could not wait to drink it!
Tea Flavor:
Fruity, Mild mint
Comment on this review
I love to make this iced, but I will not be going back to this tea. Very tasty, but every single time I drink it, I get incredibly hungry! I don't know how this one works for people who are using this to curb appetite. When I drink the green teas, I don't have this same problem. It's definitely fruity and flavorful. Not bitter, and not too minty. But I can't concentrate while drinking this because all I can think about is food. I won't be coming back to this one.
Comment on this review