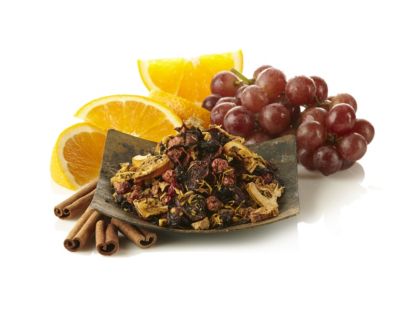 Sangria Punch Black Tea
price reflects 2oz (25-30 teaspoons per 2oz)
Product Rating
Description
Colorful as a drive along the Mediterranean coast, this flavored black is deep, complex and full of personality. Red rich grapes, tangy orange slices, juicy peach and crisp apple spring to life with a hint of sweet cinnamon, creating a magical elixir certain to awaken your taste buds.
Tasting Notes
Full bodied, rich wine
grapes
with bright
citrus
,
hibiscus
, orange,
red & black currants
SALE! Save 50 % $4.99
Availability:
In Stock
How to Steep / Ingredients
Use 1-1.5 tsp of tea per 8oz of water. Heat water to 195-205 degrees (90-96 degrees Celsius) and steep for 2-3 minutes. For stronger flavor, use more tea leaves. 2oz equals 25-30 teaspoons.
Ingredients
:Grapes, black tea, hibiscus flowers, apple pieces, cinnamon, orange slices, rosehip peels, natural & artificial flavoring, orange juice pieces, and more.
See full list of ingredients
Product Reviews