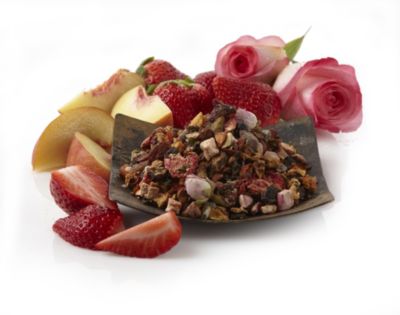 Strawberry Blush/Peach Tranquility Tea Blend
price reflects 4oz (25-30 teaspoons per 2oz)
Product Rating
Description
Harmony is embodied in this sophisticated oolong tea and herbal blend. Strawberry Blush Rosé is complemented by dreamy Peach Tranquility for a fruity and floral duo, delicious in every way. A très bien relaxing treat!
Tasting Notes
$19.96
Availability:
In Stock
How to Steep / Ingredients
Use 1.5-2 tsp of tea per 8oz of water. Heat water to 195 degrees (98 degrees Celsius) and steep for 3 minutes. For stronger flavor, use more tea leaves. 2oz of tea equals 25-30 teaspoons.
Ingredients
:Apple pieces, oolong tea, candied pineapple (pineapple, sugar, citric acid), rosehip peels, peach pieces with rice flour, cinnamon, hibiscus flowers, apple bits, carob bits, ginger, and more.
See full list of ingredients
Product Reviews