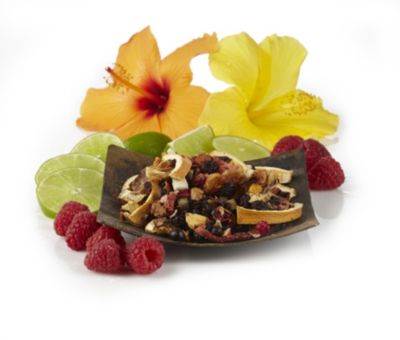 Raspberry Limeade Tea Blend
price reflects 4oz (25-30 teaspoons per 2oz)
Product Rating
Description
Cool off with Teavana's unique herbal tea take on refreshing raspberry limeade, a Summer favorite.
Tasting Notes
Beautiful balanced myriad of berries with an elegant balsamic finish blended with a burst of lime.
$19.96
Availability:
In Stock
How to Steep / Ingredients
Use 1.5-2 tsp of tea per 8oz of water. Heat water to just at boiling (208 degrees/98 degrees Celsius) and steep for 5-6 minutes. For stronger flavor, use more tea leaves. 2oz of tea equals 25-30 teaspoons.
Ingredients
:Candied pineapple pieces (pineapple, sugar, citric acid), apple pieces, grapes, hibiscus flowers, candied pomelo pieces (pomelo peel, sugar, citric acid), elderberries, juniper berries
See full list of ingredients
Product Reviews