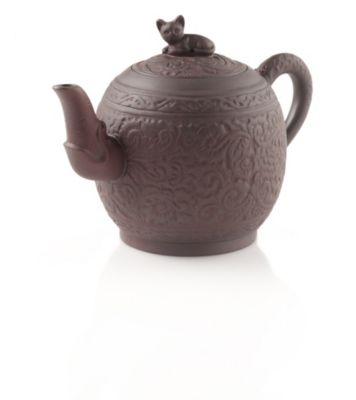 Kitten Yixing Teapot
Product Rating
Description
A cuddly kitten decorates the lid of this small Yixing teapot. Crafted of Yixing clay, this teapot should be used with your favorite type of tea only. The clay absorbs the flavors and properties of your favorite tea and enhances them in future steepings. Teapot makes up to 20oz (590mL) of tea.

Features a built-in spout strainer


SALE! Save 30 % $24.47
Availability:
In Stock
Product Reviews
Reviewer Profile:
Tea enthusiast (4), Health conscious (3)
A cute little pot I bought to best enjoy my favorite Pu Erh tea in. Like some of the other reviews, I will agree that the ceramic work is hastily done and lacks detail (squished face cat, etc) but for the price, I'm okay with it. With proper seasoning I managed to get all of the dust from the raw clay off. I love the ceremony of using it properly. It IS a little big for personal use and would be best used with friends in order to brew the leaves multiple times.
Comment on this review
Aromatic
Convenient
Energizing
Fresh
High Quality
Soothing
Unique Flavor Profile
I honestly have come to love all of the oolong teas that Teavana carries. But Samurai Chai Mate mixed with Maharaja Chai Oolong tea is my absolute favorite. I brew it at the start of and all through-out my day. It's perfect before and after meals, and I find that it actually helps settle my stomach and also can pass as desert and a treat. I brewed this tea mix in the Kitten Yixing Tea Pot AND IT WAS AMAZING!!! The kitten doesn't look exactly like the photo, however this item is hand-made. To me this adds character and makes this item all the more special. I find it to be so cute, workmanship is wonderful.I definitely noticed a huge difference in flavor. Ten times more flavorful every time I brew it. Worth every penny!! :)
Tea Body:
Full
Tea Flavor:
Spicy
Comment on this review
I was so excited to get this product, however, upon opening I noticed the cat looks less like the one in the photo... and more like the face of "Mister Howdy" - the one from The Exorcist film.

When I was going to was the teapot out to begin seasoning it, I noticed the inside was sloppily carved and even with a microfiber cloth, bits of what look more like Terracotta than Zisha clay seemed to continuously flake off.

If I had known it was going to be just for show, I would NOT have shelled out that much money, just to give my film-nerd friends a chuckle. Ah well, live and learn.
Comment on this review
A lot of people think of these teapots as purely decorative, but they make the best tea imaginable. I have used the cat teapot for over 10 years and it just gets better with age. It is advisable to use only 1 type of tea per pot because the tea pot absorbs the flavor of the tea and becomes seasoned. I make my own chai tea and drink it every day. I even travel with it because I can tell the difference between my tea made in a regular pot and my pot. I like the cat tea pot because it is a little bigger and can hold 2 cups of tea (I also have a Yixing mug). Every avid tea drinker should own a Yixing tea pot.
Comment on this review
This teapot maybe cute in the picture, but in use, it does dribble when you pour, and the handle gets hot oddly enough. Not hot enough to burn but very uncomfortable.
Comment on this review
This teapot is absolutely adorable and I love it. It holds a goodly amount of tea and cleans up quickly. The only problem with this teapot (and it is a very minor one) is that it will leak slightly when first pouring if teapot is full and it poured out quickly. If the pot is full, a gentle pouring solves this problem.
Comment on this review
This pot is wonderful:) It holds plenty of tea. Keeps it warm although I recommend getting a small warmer for it. It doesn't drip when you serve and of course is very cute:)
Comment on this review