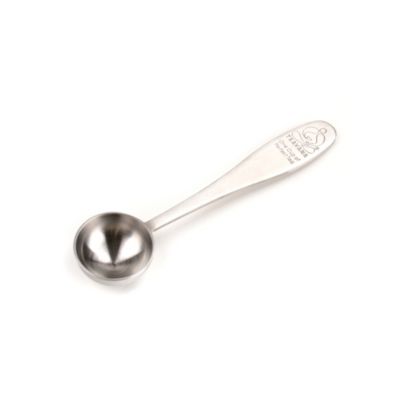 Teavana® Perfect Tea Spoon
Product Rating
Description
Make tea the easy way with our Perfect Tea Spoon. This spoon is exactly one teaspoon and scoops up even larger tea leaves with ease. And since it's made of brushed stainless steel, it won't rust, break, or melt like other teaspoons. Just put it away with your other tea accessories and make the next cup of tea that much easier.


$3.95
Availability:
In Stock
Product Reviews
Reviewer Profile:
Tea enthusiast (7), Health conscious (3)
Anytime
Medicinal Purposes
Bottom Line: Use promo code choose25 to get 25$ off 100$ order. the bone china set i bought came out to about 99.95$. so being 5 cents short, i tried to find the cheapest item i could in order to use this coupon. It might not be a perfect 'teaspoon' in terms of measuring volume. but it is the perfect 'Tea Spoon' in terms of loading tea leaves and sugar into a teapot.
Comment on this review
This product is the perfect TEA SPOON, not teaspoon. It is amazing how people can't understand what they are reading. This is the right measurement for loose tea sold by teavana, not for baking cookies
Comment on this review
When I worked at Teavana, I always mentioned to customers that the spoon isn't any regular measuring teaspoon. It's a TEA-spoon; which is larger than your regular measurement. It's larger to accommodate all of the leaves, fruits, spices, nuts, and flowers in the teas. Convenient to use because you won't have to do the math if you're making more than one cup of tea. (ie. herbals call for 1.5 teaspoons per 8 oz. cup, so to double the size, use 3 teaspoons for a 16 oz. cup). If you were to use any old teaspoon from your baking drawers, and didn't measure correctly, you wouldn't get the same flavor of tea, and you'd just waste the pricey tea you've paid for.

They don't just sell you stuff to sell you stuff, they want you to get the most out of your investment in tea.

Plus, it's a one-time purchase.
Comment on this review
Not all spoons are created equal. I used to have a problem of adding too much tea or too little and this spoon fixed that issue. I even use it to measure sugar and other ingredients. I have had mine for 4 years now and it has not tarnished, broken, stained, etc. I felt the need to comment after seeing all the bad reviews.
Comment on this review
This 'tea spoon' is not really a standard teaspoon measure. The actual volume of the spoon is one and half teaspoons (1.5 tsp) or half a tablespoon (0.5 tbsp). It is false advertising to state it is a 'perfect' teaspoon when in fact it is not. I have been using this spoon for several weeks and have been using more tea than recommended due to the larger size of the spoon. This is great for Teavana so they can sell more tea. This is not so great for the consumer. The spoon is sturdy and easy to use, just be aware of the actual size.
Comment on this review
Convenient
Durable
Easy to clean
I bought this spoon on a whim. It is no different than any other 1 tsp measuring spoon.

It is conveninet to use for tea, coffee, sugar and other sweeteners.

Instead of buy this product, just go into your drawyer and use the measuring spoon you already have.
Comment on this review
This is nothing special, just a pretty teaspoon, but I knew that when I purchased. I was disappointed though that mine arrived tarnished on both sides where the bowl meets the handle. Assuming that's just a fluke, but disappointing nonetheless.
Comment on this review
I loved this spoon. I left it right in my tea canister so that when I wanted tea worrying about where to find my measuring spoons was not an issue. But then, I dropped it. Not far, just from waist height. It snapped right where the bowl meets the stem. I expected a single spoon costing close to $4 would have been a one solid piece or at least had a much better welding job.
Comment on this review
This spoon is perfect! I use it to measure my tea and rock sugar. It has a nice weight & is well made. I use it every day!
Comment on this review
when i first started getting into drinking tea, i bought this spoon thinking it was perfect for measuring out the tea, but i soon found out that most teas require 1 and 1/2 teaspoons of tea per cup/8oz and this spoon is one teaspoon, so i don;t know how they can say it;s the perfect tea spoon. i went out and bought several adjustable teaspoons that allow me to adjust it per the type of tea i am making and per my preference.
they really need to redo this spoon or come out with an adjustable spoon, since this spoon does not allow consistant measuring of my teas. it doesn't even have any markings on the spoon that would allow for 1/2 of a spoonful.
Comment on this review