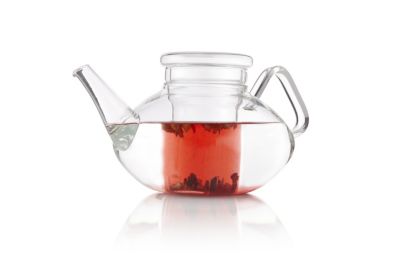 Musée de Thé Glass Teapot
Product Rating
Description
This generous glass teapot is inspired by a classic teapot design exhibited in museums around the world. It is made from Borosilicate glass, which tends to be stronger, more durable and more heat resistant than conventional glassware. The delicate appearance is created by using a pure ore to enhance the beautiful colors of the tea liqueur inside. 30oz (885mL) capacity. Dishwasher and microwave safe.


$34.95
Availability:
In Stock
Product Reviews
Convenient (4)
Aromatic (3)
Fresh (3)
Anytime (5)
Afternoon (3)
Evening (3)
Tea Flavor:
Fruity (6), Citrusy (5), Spicy (4)

Reviewer Profile:
Tea enthusiast (9), Health conscious (4), Occasional tea drinker (3)
I love the concept but the infuser is a big problem on this item. very hard to clean and it does not release flavors properly due to its design. You need to fill the infuser with water twice in order to get the right flavor. Its a very delicate glass so if the infuser or the cap breaks you can not replace it. You have to buy a brand new set.
Tea Flavor:
Fruity, Youthberry
Comment on this review
I really do adore this teapot.The squared handle makes it much more comfortable to hold level than the Belle Amitie, and it brews magnificently. The pot makes for a beautiful centerpiece, whether with a blooming tea or another, and the matching warmer is a fine accompaniment.

My only problem is with the infuser. While I didn't have so much troublekeeping the holes from clogging, I DO blame them for the infuser having just broken on me while wiping it with a damp cloth. That can be placed entirely on one design flaw- Borosilicate glass is incredibly strong because of its uninterrupted microcrystalline structure. By cutting slits into the bottom of the glass, the piece gains tiny chips and flaws which completely compromise the strength of the glass. This is why so many people's infusers have broken, and as Teavana doesn't offer a replacement part, I'll be taking my business to another store to find a compatible piece.

It's not worth buying a whole new teapot for another flawed component.
Comment on this review
Can Watch And View Tea
Convenient
Don't Come With Warmer
Shows Resudue
Spotty Glass
After Meals
After work
Evening
Microwaveable
I Like my Peach MoMo. and except for not looking like the Blooms in the store a great view to see, But wish it came with a matching warmer as Displayed in the Store. I do have to watch how I wash it, It shows Residue and gets spotty if not properly cleaned.
Tea Flavor:
Mood Enhancing Flavor
Comment on this review
The defuser is not useable, it clogs up and is very hard to clean. I bought the warmer with it and it will not stay lit. Very unhappy with my purchase. I love using the blossom teas in the pot but the tea is very weak because the defuser doesn't allow all the water in the pot to mix. You have to pour some water out and then back in to mix the water and the defuser does't work well the second time around. Very poor construction.
Tea Body:
Medium
Tea Flavor:
Citrusy, Fruity
Comment on this review
I love the look of this teapot. I have used it a few times since I purchased it in May, 2013. The issue that I have with this item is the infuser. I had been told by Teavana sales reps. that I could re-use the tea once (the tea is quite expensive, so this caught my attention). After brewing 1 pot of tea, the infuser slits become full of the previous tea and I cannot brew another pot unless I remove all the tea and then use a toothpick to clean the slits in the infuser. This becomes quite annoying and time consuming...
Tea Flavor:
Citrusy, Fruity, Spicy
Comment on this review
Aromatic
Convenient
Energizing
Fresh
High Quality
Smooth Body
Soothing
Unique Flavor Profile
After Meals
Afternoon
Anytime
Dessert Tea
Evening
Gifts
I received this teapot as a gift for Valentines day from my husband in 2011. I use it almost everyday. A few months ago I smacked the Tea infuser from inside the teapot against the spout of the tea pot, I was impressed that the spout did not break but the infuser craked along the bottom. I took the infuser back to Teavana in hopes of purchasing another. The staff was so good to me, instead of making me go online to purchase the infuser, they just GAVE me one. I am seriously impressed with the teapot as I baby it, hand washing and drying, ect.
Tea Body:
Full
Tea Flavor:
Citrusy, Fruity, Spicy
Comment on this review
I have wanted a transparent glass tea pot for a while. My wife bought me this one as a gift. I am usually quite careful, but immediately upon opening the box I knocked this pot off my kitchen island onto the linoleum floor. I was mortified, but it survived the 3 foot fall without so much as a scratch or crack. The feeling of the pot is quite delicate and I would imagine it is not unbreakable, but for the weight and the delicacy it is surprisingly resilient. It also makes a great pot of tea.
Comment on this review
Convenient
Ergonomic
Strong
Well Designed
I got this teapot Christmas, 2011. I have used it religiously since then, almost every day. I found it to be quite strong and a great size. The glass is amazingly strong, and it is very resistant to heat. I am not that gentle and several times when I thought it should break, it didn't. The other day though, I was grabbing for something on my countertop and I hit the teapot (which was empty sitting on the warmer stand) and sent it flying across the counter into another container. Amazingly, it didn't shatter, I looked at it and it looked fine. The next morning I made tea with boiling water, and no problems. Drank it all and then something caught my eye. There was crack on one side, fairly large, but the thing was still working! Astonishing that the pot is still together after such a crash and still holds water even being broke. I hope the next one I buy will hold up as well, because I am going to the mall today to get another one. For infusing tea, this is the best teapot!
Comment on this review
I love, love, love this teapot. Looks fabulous and makes wonderful tea. Elegantly styled and so perfect for one person, or two friends having tea together. I accidently dropped the diffuser in my stainless steel sink and it broke immediately. PLEASE offer a diffuser replacement.
Comment on this review
I received this teapot as a Christmas gift. A beautiful design that made delicious tea. Despite the "durable" description, I treated it as I would any fine china, that is, very carefully. Wish the infuser was sold separately. I will not replace my ruined teapot with another of the same design, as the bottom of the infuser shattered after only a handful of uses! As careful as I tried to be, I did lightly tap it against the spout as I placed it into the kettle after washing and drying it. A very sad end to a beautiful gift. It was truly the lightest tap, must have hit just right. This pot is not as durable as described.
Comment on this review