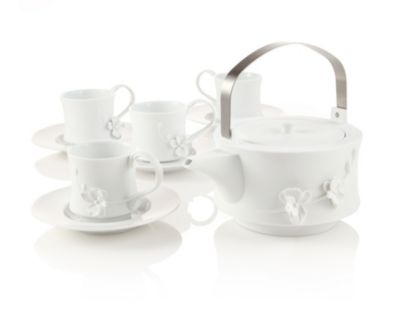 White Orchid Teapot Set
$129.95
Product Rating
Description
This elegant set has a delicate, sculpted orchid adorning the teapot and the cups. Due to the delicate nature of the design, each mold can only be used to make 30 teapots before it is retired. Each individual petal is cast separately and then applied by hand to create the orchid. The handle on the tea cup is an extension of the stem. Each set includes 4 tea cups, 4 saucers, and one 32oz (945mL) teapot. Dishwasher safe


Product Reviews
It's a beautiful ceramic teapot. However, it is very delicate and very pricey!
Comment on this review
Beautiful
Delicate-looking
Elegant looking
I had been wanting this set since I laid eyes on it and I got this for Christmas. I have yet to use it, but it is an absolutely beautiful tea set. The box that holds the tea set is even gorgeous. It was ordered online and shipped to me in pristine condition. Teavana did a wonderful job with packing the order--not a single item was cracked, chipped, or broken. I will update my review once I have put my tea set to use! :)
Comment on this review
No directions or strainer
I am a man with no tea background, but thought this would be a nice gift for my girlfriend. I thought it looked great in the store display, so I asked to purchase it. The Teavana employee said great, grabbed a box, and rang me out.

When my girlfriend opened it, there were no instructions on how to use it and no strainer in the set. Looking online on different sites (teavana has no information that I can find), I came across some information: You have to purchase a strainer separately (I would have bought it in the store if I would have known), you cannot put this on direct heat (which thankfully we didn't). The employee at teavana was absolutely no help, I feel he should have went over these things with me, he knew I didn't know anything about teapots. The store was crowded and I feel he just wanted to make a quick sale. I may change my review to a higher rating once we find proper usage instructions.
Comment on this review