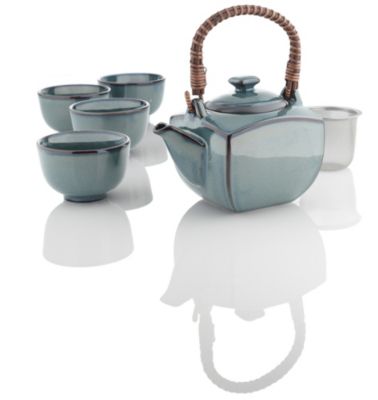 Twilight Teapot Set
$59.95
Product Rating
Description
This mysterious tea set recalls evenings watching the sun set and stars appear. Ceramic tea set includes a 24oz teapot, four matching cups and a stainless steel removable strainer for easy cleaning. The unique colors and shading will have you dreaming of twilights past as you enjoy your tea. Made in Japan.


Product Reviews
My Dad bought this for me for Christmas and when I unwrapped it I was so excited to see this adorable tea set! It works great and is really sturdy, I accidentally dropped one of the cups on the counter and it didn't chip or anything. I love it.
Comment on this review
Convenient
Cute
Functional
High Quality
I was delighted from the first cup this lovely little tea-pot brewed. Very affordable & makes an excellent decorative piece as well. Can't wait to expand my collection. It also kept the tea warm for quite some time. Still getting a tea pot warmer asap however. Extremely satisfied with this product.
Comment on this review