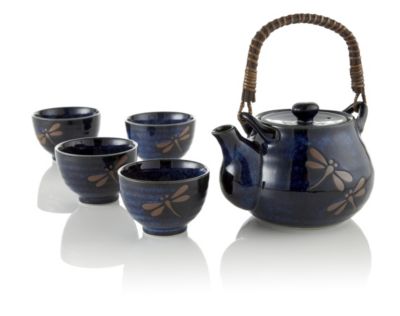 Midnight Dragonfly Tea Set
Product Rating
Description
Kyoyaki is the artform of making decorated glazed ceramics. This wonderful Kyoyaki tea set features the dragonfly, which is a symbol of new beginnings, love and romance. The deep blue color and crafted styling make this hand-painted teapot a wonderful choice. Set includes a 28oz teapot and four 6oz matching tea cups. Includes a removable stainless steel strainer. Dishwasher safe. Made in Japan.


$59.95
Availability:
In Stock
Product Reviews
Convenient (3)
Soothing (3)
Reviewer Profile:
Tea enthusiast (4), Health conscious (3)
Compact
Easy to clean
Handy
Rich Color
Simple Yet Classy
I love now that I can try different teas that are more exquisite and good for me, physically and mentally!
Comment on this review
I got this set as a Christmas gift and I have used it often since then! It looks lovely and it steeps tea conveniently, with the removable steeping basket it has. Also, the handle is nice, since it's removable and it seems pretty durable so far. I have used multiple kinds of teas in it, and they leave no residue of flavor or anything. It's pretty easy to clean.
All my friends love it too.
Comment on this review
A beautiful teapot that I love to use with friends!
Comment on this review
Convenient
Energizing
Functional
Soothing
I really love this tea set. It's cute, handy, and I love it.
Comment on this review
Convenient
High Quality
Pretty Design
I got this as a gift from a good friend, and it's SUCH a great product! As a student living in a dorm, the fact that it's microwave safe is so helpful. Also, the pot doesn't affect the taste of the tea. The design is beautiful as well. The only complaint I would have is that occasionally a leaf or two will escape from the filter with finer teas, but, personally, it's not a big deal.
Comment on this review
I just received this tea set for Christmas and fell in love. It is great because it is microwavable and machine washable! I have already made three pots today and cannot wait to make more! It is a very sturdy tea pot and is super easy to rinse/wash. Plus it comes with the beautiful cups-what a great deal!
Comment on this review
This beautiful teapot is perfect and I love it. I use it daily.
Tea Body:
Full
Tea Flavor:
Citrusy, Fruity
Comment on this review
My friends just got this for me for Christmas. it is a beautiful set and looks even better in person. i had been looking for a really nice tea set for months and i could not be happier. im even looking at getting a set from this site for my mother-in-law!
Tea Flavor:
Toasted nut brulee
Comment on this review
The filter on this tea pot allows some tea leaves to pass threw.
Comment on this review