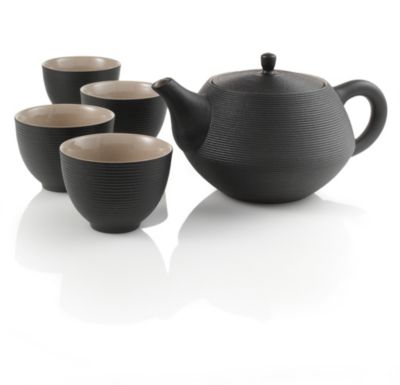 Gobi Desert Teapot Set
Product Rating
Description
By using a special stoneware and firing it at temperatures over 1250 degrees Celcius, this Gobi Desert tea set is crafted to have a distinctive textured surface. It's a simple, natural, tranquil way to enjoy great tea. Tea set includes one 20oz teapot and four 2oz tea cups. Teapot has a removable stainless steel mesh strainer that is perfect for fine, loose leaf teas. Dishwasher and microwave safe (without the basket).
$59.95
Availability:
In Stock
Product Reviews
Reviewer Profile:
Tea enthusiast (5)
I love this little set. I was looking for a personal pot to brew with and this set fit the bill. It is a beautiful set and perfect for me and my Husband especially when we are trying teas out.

Also when I just want a cup or two during the day or at night by myself this is the perfect pot for me. It came with a stainless steel infuser that fits perfect.

The style fits perfect in my home.
Comment on this review
I have tea every morning with my husband. Nice little tea pot and set but much too small for two people. Make sure you know what you are purchasing beacuse you have to pay for return shipping! cost me $12 to ship back. Very diassapointing!
Comment on this review
Not Cast Iron
Not Purple Dust Clay
This little teapot is perfect for a gift or personal use. I personally got one to use as an accent for the end table in my living room. I ended up using it almost every day it was accessible and easy. It's no cast iron or purple dust clay pot but it is perfect for trying new teas and working them into my daily routine. (then I usually end up with a purple dust for teas I fall in love with) I recommend this set for anyone whether they are just getting into tea, or are a complete snob about tea (like I am).
Comment on this review
Overall Quality
Unique Design And Feel
I fell in love with this set as soon as I saw, so decided to buy one. I already had a cast iron teapot so just wanted to experience a porcelain teapot.

Overall, it was good but this teapot has a major issue; it drips a lot every time I pour. Since this is my first porcelain teapot, I'm not sure if many porcelain teapots drip or if this one was poorly designed.

It looks really unique and pretty though.
Comment on this review
I've had this tea set for over a year now. It's stood up to near daily use, still brews great tea, and is beautiful and nicely textured. Many of my friends have complimented it, and its neutral colors go well with every room in our house.
Comment on this review
Classic Look
Easy to clean
Excellent Price
Excellent tea pot for 1-4 people. One of the cheapest sets from Teavana, and it is both high quality and looks great. The simple and elegant design of this tea set will go with any home decor and could be showcased proudly.
Comment on this review
After Meals
Afternoon
Anytime
Dessert Tea
Evening
Morning
We love this set! Originally we were going to get a cast iron pot and porcelain cups, but we saw this beauty! I love that it has the look of cast iron without the weight. It pours easily and rinses clean! I also love the texture in the glaze and the cream interior. It adds interest and a little "extra" to the otherwise plain pot and cups. We also got the iron coasters, and drink tea from the set every day.
Comment on this review
Its a 20oz but it really doesn't look like it. The photo is a little deceiving. Its very small but it was perfect for me and my boyfriend as 2 tea drinkers. Its well made and sturdy as well as having a complimentive appearance.
Comment on this review
This was my first teapot. I wanted one just because if I wanted to get more into drinking tea, I wanted to have a teapot to go with it. It's a cute little pot. Perfect size if you want to sit down with someone a drink. The little cups are perfect size for it too, smaller cups make you think you're drinking more which is great.
Comment on this review