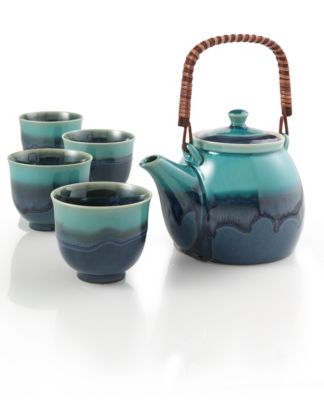 Azure Blue Teapot Set
$59.95
Product Rating
Description
Reminiscent of tranquil tropical beaches, this two-tone glazed tea service fuses traditional teapot shapes with modern glazing techniques for an updated tea set style. Japanese stoneware set is hand-glazed and fired at a very high temperature to create a durable tea set and a beautiful finish. Tea set includes a 22oz teapot and four matching 5oz tea cups. Teapot has a removable stainless steel mesh infuser for easy cleaning and a Wisteria vine handle. Dishwasher safe. Made in Japan.


Product Reviews
After Meals
Anytime
Entertaining
This tea set is beautiful, and the teapot holds just enough water to fill all four cups. The included infuser is nice, but could be just a bit longer.
Easy to use and easy to keep clean, and its conveniently dishwasher safe.
Comment on this review
This is my first 'real' tea pot set. It is convenient and fun to use. My guests were very taken away with this beautiful set.

I recommend getting tea coasters or saucers to go with seeing as how the cups get quite hot. They would also add to the experience!
Comment on this review
Convenient
Pretty
Reliable
Smooth Body
Amazing Pot. Worked good till the end. Teapot was hot and some cold water fell on it. Murder.
Comment on this review
I just got this teapot set today and I love it! The design is so pretty and it seems to be really good quality. I made some tea with it already and the tea came out really well. I am happy with my purchase, especially since I'm leaving for college in a few weeks. This will be perfect for me!
Comment on this review