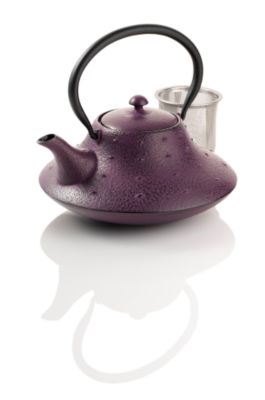 Stars and Mountain Purple Cast Iron Teapot
item no:
EPO RJ SMT PBK 24
Product Rating
Description
This Stars and Mountain cast iron teapot was created to pay homage to the ancient heraldic mountains, which are symbols of steadfastness. It is finished in an auspicious purple color that will draw your eye and your attention. Features a fully-enameled interior to promote years of trouble free use and a stainless steel mesh infuser for easy cleaning. Make 24oz (710mL) of tea. TEAVANA EXCLUSIVE Made in Japan.


$129.95
Availability:
Available on 02/10
Product Reviews
Anytime (6)
Afternoon (3)
Evening (3)
Gifts (3)
Morning (3)
Reviewer Profile:
Tea enthusiast (8), High-end shopper (3)
Beautiful, exactly what I wanted. Easy to take care of, a wonderful addition to my kitchen, worth the money. Not too heavy, just the right amount of tea for two, love it.
Comment on this review
Afternoon
Anytime
Evening
Gifts
Morning
I've been wanting a beautiful cast-iron teapot for a while, and finally went in on this gorgeous purple stars and mountain set with my husband! We love the deep purple color and unique shape, and found the perfect place for it in our house on the coffee table. The cast iron is of the highest quality tea pots. This one has a more modern feel. There is ceramic on the inside, so it protects against iron and rust. It is very convenient and easy to use, as well as a fine show piece for our living room. It also spreads heat evenly, bringing about a full amount of flavor, down to the last cup!
Comment on this review
I saw this teapot online and fell in love with it, and spent hours organizing a custom tea set around it in my wishlist- zebrawood coasters, purple oak leaf cast iron coasters, copper bell cups, a teapot warming stand, a classic black lacquer tray...
It came to me as a surprise Christmas present- my mother bought the whole set I had dreamed up- and I couldn't be more thrilled!

This teapot is a very unique shape and color, very majestic and graceful, the unusual shape of it makes it very distinctive and a pleasure to look at. I keep the tea set all arranged and set out on the table so that it can be enjoyed just as a centerpiece even when it isn't being used. It does its job perfectly, and with more grace and style than any kettle on the stove ever could!
Comment on this review
I bought this to accent my deep Green Kitchen. Looks great on the counter and love how it keeps the tea hot.
Comment on this review
When I first saw this Teapot, I did not purchase it. I couldn't stop thinking or talking about it. My husband was so tired of hearing me talk about it that he bought it for me! I LOVE, LOVE, LOVE it! It is absolutely beautiful, enchanting, whimsical, and of course, makes a perfect cup of tea! I'm patiently waiting for the matching cups...hint..hint..
Comment on this review
Afternoon
Anytime
Evening
Gifts
Morning
Oh boy, oh boy...this is a dream teapot. The color is so deep & rich, the shape is darling & the weight is great (good for muscle strength...lol).

Because the inside is coated it does not rust & the separate wire basket lets you remove the tea leaves so that they don't become bitter.

I feel very rich when I use this teapot - which is every day!
Comment on this review
Afternoon
Anytime
Evening
Gifts
Morning
This teapot arrived yesterday & I have been happily drinking tea from it since it arrived. The color, shape & weight are wonderful...the color is deep & rich, the shape is quite unique & the weight of it keeps 'me' arm & wrist muscles in good shape...lol. Must say that I have never seen this particular shaped & color teapot anywhere else...what a great exclusive teapot for Teavana! Kudos for great tea & super teapots! I just love your site!
Comment on this review
Got this for xmas. Absolutely wonderful and it's PURPLE! Makes fabu tea, and stays hot for a long time. Very good quality. One of a kind. Im so happy with my beautiful new tea pot. It has become a unique focal point in my purple kitchen :)
Comment on this review
Probably my favorite of all my cast iron pots, great size, unique shape/design and deep purple color. Plus there are matching cups and trivet [no matching saucers though :-(] I would buy another one of these if it came in a 28-32 oz pot, if such a size existed.
Comment on this review
The perfect size for a pot of tea by oneself, or with a friend. I can't wait to get the matching cups & coasters.
Comment on this review