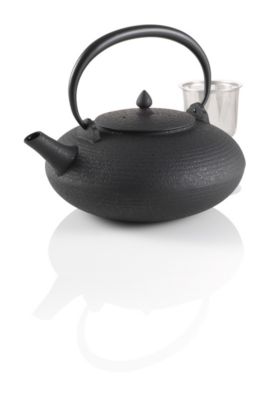 Orbits Tatara Cast Iron Teapot
$229.95
Product Rating
Description
A classic design crafted by an expert! Tatara cast iron teapots are created using the ancient art of Tatara ironworking. Perfected in the mid-Edo period in Japan (mid-18th century), it features an eggshell finished exterior composed of several layers of hand-applied fine lacquer that is tempered for strength and durability. This Japanese cast iron teapot will last a lifetime with proper care and evenly distributes the heat for a better cup of tea every time. Enameled on the inside and equipped with a removable stainless steel mesh infuser. Handcrafted in Japan. Makes up to 42oz (1.25L) of tea.


Product Reviews
This is my second cast iron tea pot. I also own the red Elephant teapot and fell in love with the color of the red Orbits.

Though quite large, the tea steeps well with just brewing half a pot. And, for some reason, this teapot keeps heat better then the Elephant.

The design is simple, elegant, and functional. Everything a teapot should be.
Comment on this review
Aromatic
High Quality
Smooth Body
Sturdy
Unique Flavor Profile
I got this tea-pot in red for my boyfriend this Christmas. We brewed tea with it first time today and it keeps the tea warm for very long time. I love the simplistic design , I feel calm looking at it right now. Perfect gift selection in my opinion because its elegant, wanted, and shared. From now on we will be sharing tea everyday!
Tea Body:
Full
Tea Flavor:
Citrusy, Fruity, Spicy
Comment on this review