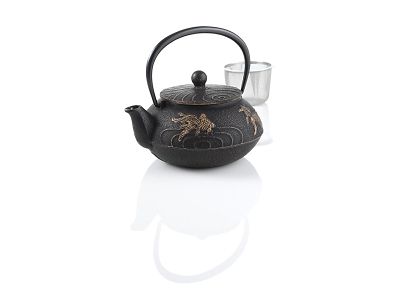 Japanese Goldfish Cast Iron Teapot
Product Rating
Description
Handsome cast iron teapot features a Japanese goldfish or 'yamabuki,' whose color reflects the richness of pure gold. Because of this, the fish symbolizes wealth, fidelity and prosperity. These Japanese tetsubin teapots are admired and collected not only for their quiet beauty, but also for their ability to brew the perfect pot of tea. It requires the skill of 17 craftsman to make one of these beautiful teapots. And with proper care, they will last a lifetime. Teapot makes 21oz (620mL) of tea and includes a removable stainless steel fine mesh strainer. Made in Japan.
$79.95
Availability:
In Stock
Product Reviews
Convenient (3)
High quality (3)
Reviewer Profile:
Health conscious (7), Tea enthusiast (3)
I'm very new to drinking tea and decided to start drinking for the health benefits and to help with weight loss. I wanted something that would be durable and would last a lifetime and decided to invest in this teapot. I purchased the blue version and love it. I make enough tea for me and my daughter to sit and relax and talk. I have no regrets, and have grown to really enjoy my teatime.
Comment on this review
Cast iron may be expensive, but trust me, it's worth it! Not only that it looks good and is durable, it just makes the tea taste better! This cast iron teapot is beautiful and I'm really glad I invested in it.
Comment on this review
Design
Durable
Low Maintenance
Occasional Slight Leaking
This is my first cast iron teapot & my first teapot with an infuser. I am very impressed with it! I've had mine for a year now & there is very little discoloration at the bottom of the teapot (but I think that could be from the tray that it's on - it's black & copper). It steeps perfectly each time, the handle does not get hot, and it's just a really pretty teapot! I'm very happy with it.
Comment on this review
I bought this pot and was super excited to get it home. I used it and FOLLOWED directions on how to dry it. The next day there was RUST around the top where the lid should sit. I was able to wipe it off, but still. The pot is beautiful and if you wish to keep it blue, do not wipe the outside of the pot with a towel, papertowel or anything. It does not drip when pouring and keeps the tea hot when placed in the pot. I love my pot, just wish the things about it could be fixed!!!
Comment on this review
My husband bought this for my birthday. Best gift I have ever gotten for as long as I can remember! I can't wait to get the rest of the set!!!
Comment on this review
I purchased this for myself in the black/gold along with a warmer and cups. I am the only tea drinker in the house so the size is good and large enough for a few cups. I find that the tea will stay hot on the warmer if the tea light is new. Once the candle gets down to about half way or less, it will not keep the pot hot enough. Other than that, I am happy with my choice. The cups do get very hot.
Comment on this review
Aromatic
Convenient
Fresh
High Quality
Smooth Body
Afternoon
Dessert Tea
Evening
I couldn't wait to receive my new teapot. It was even better than I expected. Wonderful quality & workmanship, a real show piece. The teas are fabulous, the best I've ever had. Great way to de-stress at the end of a busy day. My husband was also very impressed with both the cast iron teapot and the teas we received. Highly recommend it!
Tea Body:
Full
Tea Flavor:
Fruity
Comment on this review
The fish design on the pot I received wasn't as distinct as in the picture. It almost looked like the fish was rubbing off a bit. But it's still attractive so I'm keeping it. The size is really nice. This is my first cast iron tea pot so I'm not sure how common these issues are, but some cons with this pot are that whenever I pour I feel I have to hold the lid down to keep it from falling off and crushing my double walled tea cups- and because the top of the lid gets so hot I can only hold it down while using a silicone mitt. When the tea is done steeping taking out the mesh filter isn't easy because it's hot and there's no easy handle to pull it out. Again I use a silicone mitt to grip the inside of the filter and pull it out before putting the lid back on again. Takes a little getting used to. Makes very good tea once you get the hang of it. I get about 3 cups of 6-7 oz of tea from it, making it a nice size for one or two people.
Comment on this review
I received this little teapot from my daughter for my birthday. I was so excited to start using it that even before I read the directions I was very pleased to see it holds 21 oz. of tea. Another big plus is it does not drip during or after you pour the tea. This is a huge plus for me since everything else I've used does drip at one point or another.
Comment on this review
just the right size for me. design is subtle and attractive.
Comment on this review