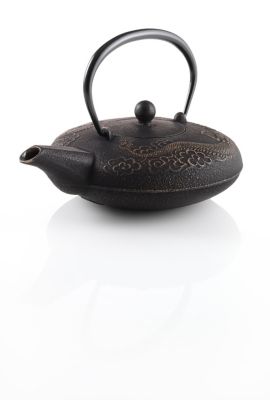 Imperial Dragon II Cast Iron Teapot
$89.95
Product Rating
Description
This is a smaller, 20oz version of our popular Imperial Dragon teapot. Crafted of Japanese cast iron, this teapot will last a lifetime with proper care. It features a five-toed dragon symbolic of the Imperial Family. The dragon symbolizes good fortune, power and strength. This 20oz teapot is fully enameled on the inside and includes a removable stainless steel strainer for easy cleaning. Made in Japan.


Product Reviews
Aromatic
Convenient
Energizing
Fresh
High Quality
Smooth Body
Soothing
Unique Flavor Profile
I purchased the smaller Dragon pot, warmer, trivet, tools, cups and leaf saucers as a reward for sticking pretty close to my food plan. The set is convenient, easy to use and elegant, plus, makes great tea. I usually brew white teas and there is just something about the set that makes my tea time very comforting and very special. The only recommendation I would make is to purchase extra cups so you can double up on the cups. Otherwise, the cast iron cups will be too hot to handle.
Tea Body:
Full
Tea Flavor:
Citrusy
Comment on this review
Convenient
High Quality
Perfect For One Or Two
Study Feeling
Anytime
For One Or Two Persons
I got this pot about a week ago and let me tell you, it's well worth the money to get a high quality teapot. This pot makes an excellent cup of tea. It's small size is perfect for a college student like myself who lives alone and doesn't need a 40oz pot but it's also just large enough to enjoy a cup with a friend. It's gorgeous colour and high quality craftsmanship makes it a great focal point in my room but it dosen't take up much space. It retains heat very well too and it's easy to clean, just rinse with a little hot water.

My only complaints would be it can be difficult to get the strainer out of the pot after steeping and the lid gets very hot after pouring in the water, so be careful. Heat transference is expected in cast iron, but it cools once the water level has gone down a bit. Some of the paint on the outside will transfer off after the first few uses, but the booklet that came with the pot said this was to be expected as well.

Overall I would highly recommend this to anyone who is living by themselves, it's well worth the money and will be perfect for you.
Comment on this review
We purchased this tea pot and my wife loves it. I do recommend purchasing extra strainers for it, as the tea leaves can be used several times and you might want to change out the type of tea you want. This is a wonderful tea pot for one.
Comment on this review
High Quality
Sturdy Construction
Anytime
Medicinal Purposes
I use this pot 4 or 5 times a day. I have discovered that 20 oz is a bit too small when I have more than one friend enjoying tea with me. It does not add any flavor to the tea, which is great, but I have seen some flakes of red paint in the bottom of my cups of tea that are a little disconcerting. I doubt I could do any real damage to the structure of the teapot, but apparently if you get oil on it the paint will be ruined. If you are looking for something to use daily, I would probably get one of the less expensive infusers, and then I would buy the larger version of this for when guests come. Other than that, it works just like it says, and it looks pretty cool as well!
Comment on this review