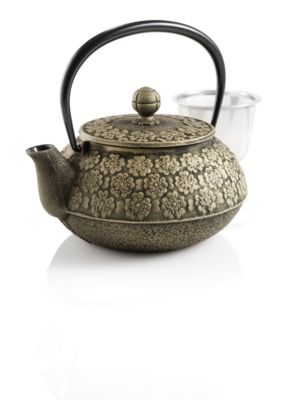 Cherry Blossoms Japanese Cast Iron Teapot
Product Rating
Description
It requires the skill of 17 craftsmen to craft one Japanese cast iron teapot with the quality of this one. Adorned with cherry blossoms, the national flower of Japan, this exquisite teapot makes exceptional tea every time. Quality cast iron pots evenly distribute heat to give you a consistent taste and even brew on your favorite tea. And with proper care, this cast iron teapot will last a lifetime. We recommend using only bamboo utensils on cast iron teapots. Teapot is lead-free. Makes up to 21oz of tea. Crafted in Japan.


$79.95
Availability:
In Stock
Product Reviews
Beautiful (7)
Durable (5)
High quality (5)
Reviewer Profile:
Tea enthusiast (11), Health conscious (4), Health nut (3)
I am not happy with the cherry tea pot. It is not pink, like advertised. it is black and gold. the matching pink coaster that was suppose to go with it is blue. Not what i ordered.
Comment on this review
Beautiful
Insert For Holding Tea
Nice Size For 2 Cups
Nice Size For One Person
I use this when I have time to sit at home and drink tea - usually on days off from work and in the morning while checking email, surfing the internet, just relaxing. I bought cups/saucers, tray, warming thingy - I love the entire experience but wish I could have found matching cups- I went with a gray color that's pretty but would still like cherry blossom cups!
Comment on this review
Beautiful
High Quality
Sturdy
I love this teapot! I am very new to tea but the new employee at the Teavana store in Franklin, Tennessee, helped me pick this pot out and a few teas as well. It's wonderful! I would recommend this pot to everyone. It's very easy to use and to clean, it's beautiful, and it keeps the tea hot for a about an hour.
Comment on this review
Every tea enthusiast's dream come true. Beautiful design (even better looking in person) and great quality. I will be passing this down to my daughter & hopefully she will do the same. The lid, pot, and strainer do get very hot, this is where having the bamboo tool kit comes in handy ;) I also use a cast iron warmer to hold my teapot, protect my counters and keep my tea warm.
Comment on this review
This is a good-sized, beautiful teapot. Every time I brew and serve tea for my friends, this teapot makes me proud.

One thing I don't like about this one is it gets easily rusted and the rust doesn't come off easily.

I felt that employees at local Teavana shops (at least the shops I've been to) were very pushy about those expensive cast iron teapots.

If you have money to spend, it's good to have one. But in my humble opinion, it's not a must have. A decent porcelain teapot will be enough to enjoy any type of tea.
Comment on this review
Comment on this review
Beautiful
Comes With A Strainer
Elegant
High Quality
Sturdy
I received the blue cherry blossom tea pot as a gift and I absolutely adore it. One of my favourite gifts ever! It is beautifully crafted and I've had many compliments on it from friends. It keeps the tea hot and fresh, although the outside does get quite hot to touch. It is the perfect size and holds enough for four small cups so you can share it with friends or even just enjoy it yourself. Best teapot I have ever had. I am in love with this teapot.
Comment on this review
I received this pot along with a warmer and matching cup/saucer as a gift from my husband. I am so thrilled! It's absolutely beautiful, makes the perfect amount of tea for just myself (the only tea drinker in my family) and is just plain wonderful.
Comment on this review
I've had my Cherry Blossom pot for some time now. I actually have the 32oz from before they were discontinued. My father bought it for me for my birthday and it's been the best present ever. There were a couple of initial returns because the interior enamel had a tendency to flake off from where the lid rests, but I didn't give up. Now I think I've had mine for over a year and as a tea snob I CANNOT LIVE WITHOUT IT. Paired with my zojirushi and a tea warmer, this makes tea simple and yet still elegant. I love a pot of white tea in the evening and nothing is as serene on a quiet, cool evening as quietly sipping Silver Needle from my cast iron cup with my pot at my elbow. I've gotten tons of compliments on it, and my best friend Jeremy has even splurged and gotten a cast iron pot (from Teavana, of course!) I look forward to many long years with my tetsubin!
Comment on this review
I just got this teapot and am impressed with it. The white peach tea I made in it came out so good. It kept the day hot for about one hour before I drank it all. This is my first purchase of a cast iron teapot. It holds 21 oz of tea as it states. I am glad I got it.
Comment on this review