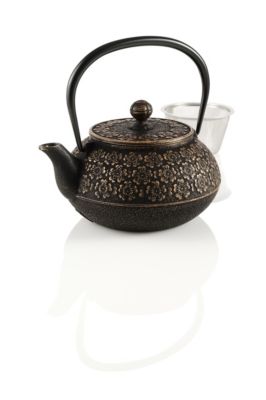 Cherry Blossoms Cast Iron Teapot
$129.95
Product Rating
Description
Forged by the oldest, most renowned cast iron producers in Japan, this handsome cast iron teapot, or tetsubin, is admired not only for its beauty, but also for its ability to brew a perfect pot of tea. This teapot is covered in cherry blossoms, which symbolize beauty, eternal love and the emergence of Spring. The completion of one of these pots requires the skill of 17 craftsman. You can see the handiwork in the smooth enamel interior and detailed exterior. This teapot will last a lifetime with proper care. Makes up to 30oz (885mL) of tea.


Product Reviews
Reviewer Profile:
Tea enthusiast (5)
Great sized basket
Nice sized pot
I got this teapot for christmas (2011). I've used it almost every day since i got it. I LOVE it! I also have the small (16oz) black dragonfly teapot. I love this flower teapot better. It is 30oz, which keeps me sipping tea all day long. with the 16oz, i was brewing tea twice a day. I like my tea on the stronger side, and I love this teapot because it has a bigger basket which allows me to brew stronger tea. With the 16oz, i could never pack enough tea in the basket. My only dislike of this teapot is that the basket doesn't go all the way to the bottom of the teapot; it's about 3/4" from the bottom. The 48oz black dragonfly pot does have the deeper basket, but i felt that was too big for me and the basket is the same size as this one (weaker tea). Some days i don't need 30oz of tea and would like to brew less. On those days I end up brewing too much tea in order to get the basket in the water. That aside, I love it!
Comment on this review
Recieved this teapot as a gift last year and love it! It's perfect for the office. I preheat the pot for a few minutes before filling it from the hotwater tap on the office watercooler and I have hot tea on my desk for hours. Had it for almost a year and not seeing the wear issues mentioned by the other reviewers, perhaps they used detergent on it which is a no-no. Simply rinse and dry. Don't forget to get a base to protect your table/desk from scorchmarks as the pot can get quite hot.
Comment on this review
I received this as a birthday present after drooling over it on the website for months. It's completely lived up to my expectations and exceeded them; it's beautiful and timeless. I love how the tea-warmer keeps my tea perfectly hot in my cast iron teapot. I look forward to using this pot for many years to come!
Comment on this review
I was so crazy for it..I drove down to Bellevue just to buy the pot and drove all the way home!! It's a great looking teapot (I bought the whole set) it keeps the tea nice and warm and makes enough to share. However, my crazy fanfare died after using it 4 times...the handle where it meets the pot is showing wear (grinding from moving the handle?) and starting to rust!
Comment on this review
I use this product daily for at least two pots a night!! I have had the teapot for about a month now, and the ONLY negative I can give is that the interior coating is beginging to peel off around the top of the kettle (not nice to have a black coating floating in your cup)! Other than that, it brews and keeps my tea warm, does what I want it for easily and easy clean-up!
Tea Flavor:
Citrusy, Fruity, Spicy
Comment on this review