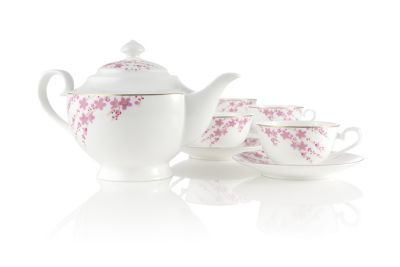 Sakura Petals Bone China Tea Set
$99.95
Product Rating
Description
This gorgeous nine piece tea set features cherry blossoms, the national flower of Japan, on a white bone china surface. Detailed with 24 karat gold accents, it brings your tea time to life. Tea service includes a 43oz teapot, four matching tea cups and four saucers. The cherry blossoms symbolize beauty, good fortune, love and the emergence of Spring. Tea set features a double fired glaze and hand applied details.


Product Reviews
This tea set is beautiful. Not only do I use it daily for drinking tea but it also acts as a piece of art on the shelf.
Comment on this review
I drink most English Breakfast teas, and I love this set. You have to buy a basket separately if you want loose teas, but since I primarily use this for my tea bags, I never really bother (I have a different pot for my white teas). And the teacups are gorgeous and are the perfect size for a cuppa.
Comment on this review
wonderful and beautiful tea set! got this as my first tea set and i love it already.
Comment on this review
Absolutely beautiful tea set. My husband bought this for my birthday and I love it. It's very well made and beautifully painted!
Comment on this review
Absolutely love this teapot set! Cherry blossoms anytime I want them...makes me happy :)
Comment on this review
I just received this tea set from my sister for my birthday. I absolutely love it! I really enjoy Japanese-inspired items and cherry blossoms in particular. The bone china is beautiful and seems very strong, I expect that it will hold up well for years to come. The teapot is quite large and the cups and saucers are lovely, with pink flowers on white china and gold accents. This was a wonderful gift!
Comment on this review