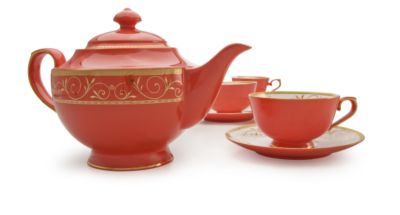 Ruby Filigree Bone China Tea Set
Product Rating
Description
This brilliant red bone china set features a timeless design blending passionate red with a delicate filigree swirl and leaf motif. Lustrous red glazing is a unique art form only accomplished by the finest production facilities in China. This nine piece tea set includes one teapot, four tea cups and four saucers. The cups have a brilliant white interior. All of these pieces feature hand-finished accents in real gold paint. Hand wash only. Exclusive to Teavana. Each set includes a 36oz teapot and four 6oz tea cups with saucers. Do Not Microwave.
$99.95
Availability:
In Stock
Product Reviews
Afternoon (4)
Dessert tea (4)
Evening (4)
Anytime (3)
Reviewer Profile:
Tea enthusiast (8), Occasional tea drinker (4), High-end shopper (3)
Beautiful Set
Durable
Great For Entertaining Guests
Needs More Parts
Needs Sugar And Creamer Option
Afternoon
Anytime
Dessert Tea
Entertaining Guests
Evening
I had passed by Teavana stores for several years and only in the more recent years have only recently been going into them. Seeing the variety of tea sets they have my eye was drawn to the beautiful ruby red bone china set (I bought it as a birthday gift to myself). I have yet to use it on anyone but myself but certainly will use it in the future. I keep it in a glass cabinet so not only is it a great decorative piece but also easily reached for when I wish to use it. The only drawbacks of the set are that there is no option to purchase a matching sugar and creamer set, matching teaspoons or more cups and saucers for those times you have more than four tea drinkers around. Beyond those few drawbacks this is a wonderful set that can be handed down to children and grandchildren.
Tea Flavor:
Strawberry And Creme
Comment on this review
Primarily, I use this set when serving guests or family. This set is a really elegant, well done set. But, it needs more pieces. I would love to see a creamer for the set, but so do all the other reviewers (too bad teavana hasn't done anything yet...). Overall, this set really is a good one.
Comment on this review
I will serve my Mother with this service and that says it all.
Collecting tea services is a bit of a passion with me... This set is brilliant and red is not really one of my favourite colours- still just brilliant.
I could not be more pleased.
Comment on this review
Need More Pcs Available
Need Sugarcreamer Bowl
Afternoon
Dessert Tea
Evening
Gifts
Gorgeous set, totally and completely. It has a very large teapot, and a decent amount of teacups. I recieved it as a gift, along with gold elephant teaspoons and red lacquer coasters. I added on a gold sushi tray, and the red porcelain infuser mug and canister that came out around Holiday, and I bought a second set for myself, for more cups. I only wish that you could buy more cups individually, and that there was a matching cream and sugar set to go with it, for the full "English tea" experience. Finding a set that's similar in color enough to this set is going to be next to impossible; it's so vibrant, but worth the work- It's so gorgeous!
Comment on this review
I received the tea set after admiring it in the display window at the mall. My husband usually buys me jewelry, because he can't think of anything to buy me. I told him if he would just listen when we are out shopping he would have all kinds of hints. Well, sure enough he listened when I told him how beautiful the red tea set was. I received it as a CHRISTmas gift. I wish there was a creamer and sugar bowl to match.
Comment on this review
This is absolutely a gorgeous set. I got it as a gift and couldn't wait to use it. It has inspired me to have an afternoon tea with some of my friends - all who appreciate and have a love of tea! Wish it had come with or had an option to buy a sugar and creamer to go with it.
Comment on this review
Beautiful Workmanship
Good Price Point
I don't have a place in town that sells quality tea sets or loose tea, so when I stumbled upon a Teavana store on a trip I was thrilled. My eyes fell upon this tea set and I knew it had to come home with me! It is beautiful, well-made and all at a great price!
Comment on this review
This is a really lovely tea set, so much more beautiful than anything else I have seen. I bought this set from a really great guy in the San Diego branch of Teavana after seeing this set in the window. I just had to have it. Being British, I also needed it shipped back to London and the packaging was so brilliant, there wasn't even a scratch in the gold!
Comment on this review
I saw this set in a window at a local mall and was just stunned by its beauty...I am not really a tea connosiuer but the looks of the set was simply lovely. I had to stop and stare at it and my brother of course noticed...He just gave it to me yesterday for my birthday months after I saw it...My jaw dropped when I saw the first piece...I love it and all the more because it came from him and my niece!
Comment on this review
Artificial Taste
Bitter
Weak
Afternoon
Dessert Tea
Evening
I just bought this product yesterday, and I must say, it is wonderful. The colors are vibrant, the quality of the porcelain is absolutely visible. It is thin and smooth. And the design around the cups and teapot is an excellent touch :D .. I loved it absolutely. A great way to spoil you. :D
Tea Flavor:
Citrusy, Fruity, Spicy
Comment on this review