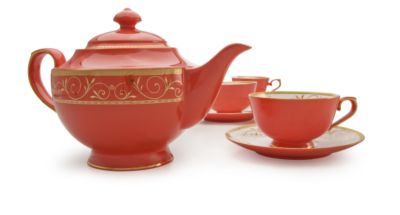 Ruby Filigree Bone China Tea Set
$99.95
Product Rating
Description
This brilliant red bone china set features a timeless design blending passionate red with a delicate filigree swirl and leaf motif. Lustrous red glazing is a unique art form only accomplished by the finest production facilities in China. This nine piece tea set includes one teapot, four tea cups and four saucers. The cups have a brilliant white interior. All of these pieces feature hand-finished accents in real gold paint. Hand wash only. Exclusive to Teavana. Each set includes a 36oz teapot and four 6oz tea cups with saucers.


Product Reviews
Reviewer Profile:
Tea enthusiast (6), Occasional tea drinker (3)
Beautiful Workmanship
Good Price Point
I don't have a place in town that sells quality tea sets or loose tea, so when I stumbled upon a Teavana store on a trip I was thrilled. My eyes fell upon this tea set and I knew it had to come home with me! It is beautiful, well-made and all at a great price!
Comment on this review
This is a really lovely tea set, so much more beautiful than anything else I have seen. I bought this set from a really great guy in the San Diego branch of Teavana after seeing this set in the window. I just had to have it. Being British, I also needed it shipped back to London and the packaging was so brilliant, there wasn't even a scratch in the gold!
Comment on this review
I saw this set in a window at a local mall and was just stunned by its beauty...I am not really a tea connosiuer but the looks of the set was simply lovely. I had to stop and stare at it and my brother of course noticed...He just gave it to me yesterday for my birthday months after I saw it...My jaw dropped when I saw the first piece...I love it and all the more because it came from him and my niece!
Comment on this review
Artificial Taste
Bitter
Weak
Afternoon
Dessert Tea
Evening
I just bought this product yesterday, and I must say, it is wonderful. The colors are vibrant, the quality of the porcelain is absolutely visible. It is thin and smooth. And the design around the cups and teapot is an excellent touch :D .. I loved it absolutely. A great way to spoil you. :D
Tea Flavor:
Citrusy, Fruity, Spicy
Comment on this review
This is my second tea set from Teavana and by far my favourite. The set has a very English feel to it, and is the perfect visual accent when preparing any Black tea. I especially love the gold designs on the cups and saucers; it gives an extra touch of class and sophistication to this excellent set. I would highly recommend it to someone who wanted a product that was functional, while still looking beautiful on display when not in use.
Comment on this review
I host teas and really need six or eight cups it would be perfect to be able to add tea cups to a set.
Comment on this review
I donot own it but I am very tempted as I have seen it many times. Teapot seems to be a deal breaker for me. It is just not ornate and graceful enough. It looks tilted/odd shaped and does not work with beautiful european tea cups. Teapot is too contemporary and the only thing they did is just added some gold ornament. All in all it is not harmonious with the cups. Untill I find teapot to work with cups I will hold off. I wish they let you have pieces separately or had 6 cups instead of 4.
Comment on this review
Afternoon
Anytime
Evening
Gifts
Morning
This is a beautiful tea set in deep Red with a beautiful bright Gold accent.
It just strikes your eyes from 20 feet away.
The hand painted detailing ini real gold paint is awesome. You can enjoy a royal tea party with this tea set.
Received lots of compliments from all my friends.
Proud to own this one
Comment on this review
Why are there not matching cream and sugar bowl with these bone china tea sets? I bought the ruby filigree set and absolutely love it, however, I NEED A MATCHING CREAM AND SUGAR BOWL TO GO WITH IT. Get on it already Teavana!
Comment on this review
I was walking passed the Teavana store in our mall with my friend Maria, when I saw this teaset in the window. The color was so striking it just grabbed your eye. Its a very bright orangey red with beautiful gold detailing on the pot and on the interior of the cups. I walked by but could'nt get it out of my mind. As we walked back to go to our car we passed it again and I said to my friend "what the hell lifes short" I went inside and bought the set and I adore it. Once in awhile we must treat ourselves to something truly beautiful that makes you feel good, and this did. I can't wait to show it off. My gift to ME!
Comment on this review