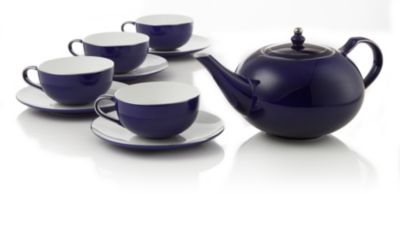 Royal Sapphire Bone China Tea Set
SALE! Save 50 % $64.98
Product Rating
Description
This elegant tea set, with its deep cobalt blue exterior and platinum accents has a design which is both modern and timeless. Originally due to limited supply, porcelain products like bone china were restricted mainly for use by royal families, earning bone china the nickname "white gold." An everyday luxury for tea drinkers, Teavana's exclusive bone china collections are discerned by their high luminosity and strength. Each set includes one 32oz teapot, four tea cups and four saucers. Made of Bone China. Teavana Exclusive. Hand wash only


Product Reviews
This is a luxury item. As someone who has worked with porcelain and different clays before I can say that this tea set is high quality. The pot itslef is well made with thin walls characteristic of bone china and the cups are too. Just looking at them makes me happy. In addition, the silver accents and rims makes the overall design perfect. I am glad Teavana is making such high quality product.
Comment on this review
I saw this in the store and it was absolutely beautiful. It holds quite a bit of tea and looks stunning as a dispaly piece. However, the third time I used it, the pot slipped off the trivet. It dropped no more than an inch and it didn't fall hard yet the side shattered off. I know it is china but was still disappointed such a small fall would cause it to break.
Comment on this review