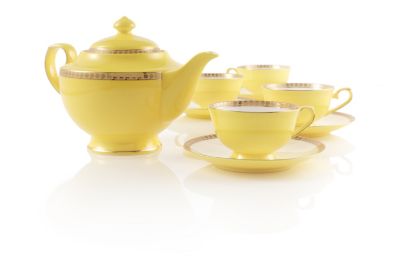 Noble Poppy Bone China Tea Set
Product Rating
Description
This sunshine yellow bone china tea set features a bright white interior and gold poppy flower edging. Yellow glaze is one of the most difficult colors to accomplish in bone china, which makes this tea set both rare and coveted. Nine piece tea set includes one teapot, four tea cups and four saucers. All feature lavish gold accents done by hand and double fired glazing for a spectacular look. Hand wash only. Exclusive to Teavana. Each set includes a 36oz teapot and four 6oz tea cups with saucers
$99.95
Availability:
In Stock
Product Reviews
Reviewer Profile:
Tea enthusiast (6)
I use this almost daily. I spent a lot of time in England and in houses where women used these often with other girl friends. I do revert to some more practical to go tea cups but this is perfect for home! I did drop the top on my tile floor and it subsequently broke, which has been disappointing. hopefully something can be done.
Comment on this review
So far I have purchased two of these sets. They are stunning!! I was walking in Manhattan when I spotted this item in their window. I have given them away as gifts. I can't wait to purchase another set- this time for myself. FYI the set is a really BRIGHT- yet very beautiful yellow.
Comment on this review
I have this set and I absolutely love it! I wouldn't buy it online without having seen it in person first as it is a very rich yellow and the photo doesn't really capture that. I love that this tea set is simple, elegant, and unusual. The gold detail is absolutely stunning. It is shaped very well and doesn't spill when pouring. I have heard that bone china can crack if you put water in it that it too hot, I don't like my tea to be 400 degrees anyway. Anyway, it is a gorgeous tea set and makes tea, at any time of the day that much more delightful.
Comment on this review
I received this tea set as a gift from my sisters for my birthday. When I opened the box, my jaw dropped. While I had seen the tea set on the website, I had no idea how gorgeous it was in person; the colour is like no yellow I have ever seen, and the gold details are absolutely beautiful. Honestly, it is breathtaking.
I have since purchased a filter to go with this tea pot, as I wanted to be able to resuse my leaves.
While the set is probably designed to be used on special occasions with guests, I use a single cup on a daily basis, since I love them so much, and brew pots of tea for myself when I want many cups of the same leaf.
I am in love with this tea set.
Comment on this review
Cups Nicely Weighted
Easy to clean
Pours Without Dripping
Vibrant Color
Finding an intense yellow tea set is hard. This color is arresting and the shapes of the pot and the cups are really lovely. I've had many tea sets. This one is hands down my favorite.
Comment on this review
I bought this tea set last weekend in the store and I must say that the photo online doesn't do it justice. The yellow isn't a fluorescent yellow like the photo here - it is more of a warm yellow. For me it was love at first sight - my first thought was that it looked very imperial, like something a king/emperor would use because of the color, gold trims and flower detail. The sales clerk at the store also told me that the gold trim is 14k gold. I don't know if I believe her and it doesn't say so on the site, but nonetheless, it's beautiful. The teacups are just the right size and the curves are very well-designed. Using this set brings the whole tea experience to the next level.
Comment on this review
Although I did not buy it, I wasn't very pleased. On the website, the color is a beautiful light yellow. Seeing it in person was another thing. It is a very tacky fluorescent yellow. Not at all the same color as they picture it.
Comment on this review
Delicate
Point of conversation
Stunning piece
My husband bought this for me for our first anniversary. It's a wonderful gift, and very thoughtful because I'm home a lot more working on my PHD and I like to wind down with an exquisite cup of tea.
The bone china is delicate and light, which is telling of it's quality. The yellow, which I originally thought may have been tacky is decadent and bright and very alluring.
It stands out in our china cabinet and is just a treat to use.
Comment on this review
Yellow is my fav color and this is just a beautiful bright yellow! It would be even better if we could get 8" salad plates to match so that there is a complete service for tea time. I came to the web site looking to see if they were available, but no luck :( And what makes this set even better it was a gift from my mother!
Comment on this review
We like it very much, it is simply beautiful! It has the best color, and very unique. Inner artwork in the cups looks great and indeed very noble.
Comment on this review