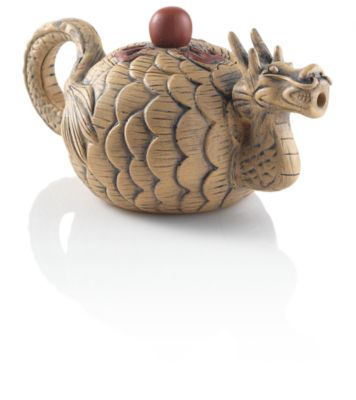 Winter Dragon Yixing Teapot
Product Rating
Description
This beautifully detailed teapot form a dragon with his mouth as the tea spout. On a Yixing teapot, the dragon symbolizes power and strength. And when designed this beautifully, it engenders conversation. Made from Yixing clay, this teapot will season over time and enhance the flavors of your favorite tea. For this reason, it should be used on only one type of tea. This is a larger Yixing teapot and holds 14oz (410mL) of tea.
&nbsp
Features a built-in spout strainer


$44.95
Availability:
In Stock
Product Reviews
Reviewer Profile:
Tea enthusiast (6)
The pot is smaller than it looks in the picture but the thing that is the most disturbing about it is that it does not come with a strainer basket. How are you suppose to steep loose tea without a basket unless you get one of those generic fidly balls. Normally teavana is high quality but I am disappointed that they would skim on such a fundemental part of the tea pot. On the bright side it is beautiful and makes a great pot of tea for just myself at the office.
Tea Body:
Full
Tea Flavor:
Fruity
Comment on this review
This was a gift from my sister for Christmas, and my third yixing tea pot. I love the detail, and anticipate it becoming one of my most used tea pots. It holds approximately 8 oz of tea perfect with my Guinomi Tea Cups and my favorite Milk Oolong tea.
Comment on this review
Convenient
Satisfying
Useful
At first, I was disappointed because the teapot i received looked a little different than the picture. The color was more reddish brown and the pot was less detailed than and differently detailed than the picture slightly. However, I kept it anyway and it brews a nice cup of tea. It has worked fantastically for me.
Comment on this review
We purchased this teapot in a Teavana shop. The very first time I attempted to use it, it leaked profusely from the bottom. We took the teapot back to the shop and were told that it had a hairline fracture inside the teapot which led to the leaking. The attendant pulled out the same teapot from their stocks and examined that one to find that it, too, had the same fracture. This is because Yixing clay is fragile and the pots are not packed very well when they arrive at the store.
Comment on this review
The scales on the dragon are not modeled as clearly as depicted in the photo. They are more defined by shading painted on. The head of the dragon is charming, however, and I did not send the pot back.
Comment on this review
I love the Winter Dragon Yixing Teapot! It's an affordable price for such a unique and useful item. When mine is not in use, it's often the centerpiece of the breakfast table because of it's sculptural qualities. It makes a lovely gift to someone who has limited kitchen/dining space since it is both functional and decorative. I like the color of this teapot as well, as most of the others offered are dark, while this one has a nice cream color with other accents.
Comment on this review
I've been looking at the yixing pots for awhile, and I purchased both the winter and the sea dragon tea pots. I bought both online; this one arrived in perfect condition, the other's horn ends have bits off.

Unlike the other reviewer, I found that this one pours perfectly, much better than my tetsubin. Since these are handmade of clay, it stands to reason that there will be some variation in the spout and other features as well.

This yixing pot does not come with a strainer, so you will want to use something else to brew the tea. I brew my tea in a gaiwan separately, and fill it with three steepings worth to use it as a "fairness pitcher." You can also use a tea ball or place the leaves in directly.

Remember that the yixing pots season over time, so you want to use one kind of tea. I use this one exclusively for tie guan yin (monkey picked oolong).
Comment on this review
This is a very nice Winter Dragon Tea Pot. I also have a tea pot warmer which does no damage to it. The only concern I have is the way how the tea spout is made, after pouring your cup of tea the tea tends to drip down the spout after your done pouring it so you have to pour it in a certain way to avoid that from happening. Other than that it is a unique tea pot a lot of my friends like it and I will always use this Tea Pot to brew my tea's!!
Comment on this review