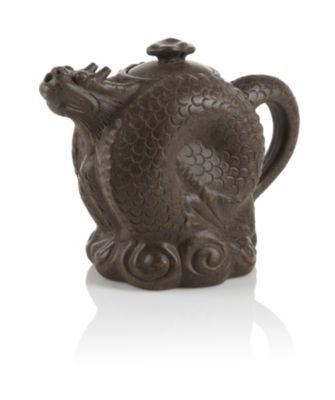 Sea Dragon Yixing Teapot
Product Rating
Description
This teapot features the dragon as protector of the sea alongside the meaning of good fortune, power and strength. The spout is the head of a dragon, the handle a tail and the entire dragon body sits on top of a design created to represent water in spirals. Holds 18oz (530mL) of tea.

Features a built-in spout strainer


$49.95
Availability:
In Stock
Product Reviews
This is a beautiful teapot, which I'm using for oolong. It's on the larger side (18oz, which is huge for a yixing), but it was so pretty that I figured I will just use less water if I want less tea. I hope that doesn't make it season unevenly. Anyway--it pours well, the strainer spout doesn't let leaves come through, and it holds its heat since the walls are relatively thick. I recommend the bamboo toolset with it.

I'm a little surprised that it didn't come with any instructions on seasoning/priming for the first use. You definitely need to prep it. Luckily, there are a lot of sites out there that can explain the process.

I've posted a before & after picture of the teapot fresh out of the box, and after the initial curing. It looks shinier beforehand but it feels smooth as silk afterward. Don't rush the process! I'm looking forward to further seasoning this pot over the next couple of years by drinking lots and lots of tea. :)
Comment on this review
This is my first Yixing teapot. I seasoned it just last night and it brews a great cup of tea. There is a built-in strainer which is very handy, and the teapot is a nice size. It can hold enough tea for me and a friend. They have changed the design of the dragons horns. One reviewer thought hers were broken but they are not it appears to have been filed down by the artist.
Comment on this review