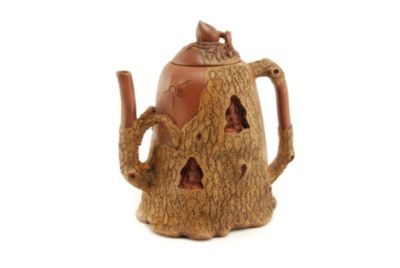 Buddha Tree Yixing Teapot
Product Rating
Description
This whimsical teapot features four Buddhas hand-carved into the teapot itself, which makes an unusual conversation piece. Building on the tree bark exterior, the spout and handle form tree branches. And the tree design is only the beginning! This teapot symbolizes purity and enlightenment.

Teapot holds 20oz (590mL) of tea.


$49.95
Availability:
In Stock
Product Reviews
Reviewer Profile:
Tea enthusiast (4), High-end shopper (3)
Cute and whimsical teapot, but it arrived broken. They are sending another pot, but I am concerned that this teapot does not pack well. I am also concerned about drinking tea from the pot since it is not glazed on the inside.
Comment on this review
I have to agree with the other reviewers about the difference in the color from the picture here. However, I have another Yixing pot that a friend brought me back from her travels in China, so I knew that the clay is much darker. I think Teavana should change the picture here, so buyers can see the actual color. I don't mind that it's darker. The pot is, as stated, very whimsical, and I love the Buddha's in the tree theme. Plus, who couldn't use some "purity and enlightenment." I wanted something larger then the plain little 8 oz. pot my friend brought me, so that makes this a perfect addition.
Comment on this review
I bought this based on what I saw in the store. It was unique and I wanted to add it to my Yixing teapot collection. The actual teapot I received was darker than the photo. I had wanted the lighter bark for the tree, but it will do. I use this pot for my jasmine teas because this type of pot holds the scent better over time.
Comment on this review
The pot I received is much darker than the one in the photo. That's why I gave it only 4 stars. The pot itself is a little larger than the other personal teapots. I like the buddha in the tree theme. It was a whimsical purchase and I like it overall. However, in the future I think I will wait and purchase in a store when I can be sure the color is what I want.
Comment on this review
I use this pot for Jasmine Oolong only and the more I use it the better the flavor from this beautiful pot. It was worth the money that I spent and I would spend it again. I love this little pot.
Comment on this review