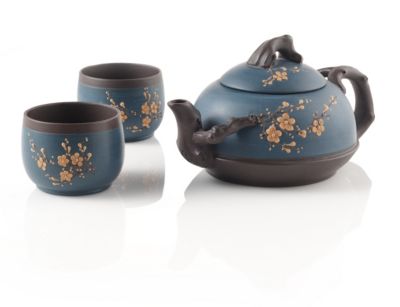 Blue Cherry Blossom Yixing Teapot
Product Rating
Description
This unique teapot invokes an old Chinese symbol: the Cherry blossom. They are the first flowers of Spring, so they symbolize new beginnings in life. Perfect as a gift to a friend or yourself, this unique teapot is crafted by two artisans working in concert. Made of Yixing clay, this teapot will absorb the flavors and properties of your favorite tea. We recommend using it for only one type of tea. Makes up to 16 oz (470mL) of tea. Includes a removable stainless steel tea strainer.


$44.95
Availability:
In Stock
Product Reviews
Ordered for my daughter for Christmas.....it came chipped at the top. Not sure if it happened during shipping or left the factory in less than perfect condition. Could not find the broken piece....
Comment on this review
Bought for a gift offline. Thought it was MUCH smaller than I anticipated. Also shipped unclean- lots of dust. I'll stick to buying things in the store from now on.
Comment on this review
Beautiful to look at. Color of teapot and cups is rich. I have a collection of teapots on display in my kitchen window. I encourage guests to pick a teapot. This beauty is frequently the one chosen. It holds a smaller amount...but that lets me make more tea!
Comment on this review
I had to buy this tea set after seeing it. It's so beautiful and just the right size for one or two people. It will season over time and take on the character of my favorite orange tea, and the price was extremely reasonable. I'm looking forward to enjoying it for years to come and adding other Yixing tea pots to my collection.
Comment on this review