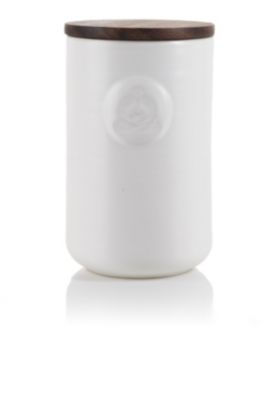 White Stoneware Tea Canister
Product Rating
Description
Reminiscent of the classic 50's style ceramics, this canister is a great way to store tea or sugar. Made of stoneware. The lid is made of Acacia wood so there will be natural variations in color. Teavana Exclusive. Hand wash only. Holds 8oz (235mL) of tea.


$14.95
Availability:
In Stock
Product Reviews
I love it, it holds a good amount of tea and looks great. Fits in with all my other kitchen utensils and tea pots
Comment on this review
Convenient
Elegant
Fresh
High Quality
BUY THESE NOW!
I was debating on which tea canister to buy for my growing tea collection and when I saw these I new I found them!! They are simple and yet so elegant. I love the wood top and the grain to it! It keeps my tea fresh and aromatic in each canister! I have taken the reusable labels from the tea packets and arranged them on each canister. I only bought two just incase my eyes were deceived but NOW that I got them in the mail today I AM BUYING FOUR MORE BEFORE THEY GET SOLD OUT!

I PERFER THE THE WHITE AND WOOD TOP INSTEAD BECAUSE THE TEA LOOKS BEAUTIFUL IN IT AS IT CONTRASTS WITH THE WHITE CONTAINER!
Comment on this review