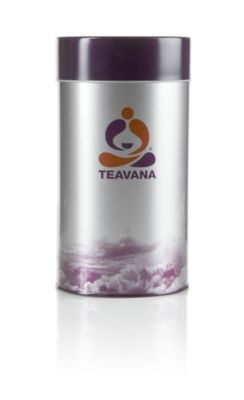 Teavana Citrus Tea Tin
Product Rating
Description
Designed especially for Teavana, this tin provides the perfect container to store your citrus teas. The interior lid is a special type of plastic (polyethylene) that is stable in the presence of citrus oils, keeping the tea fresh and the tin sealed. Suggested for use with any of our citrus teas. Holds 1lb (450g) of tea. Made in Japan of tin-plated steel.


$7.50
Availability:
In Stock
Product Reviews
Reviewer Profile:
Tea enthusiast (4)
This tin is WONDERFUL!!! If you've ever had trouble opening your tea tins, it's probably because you've got a citrus tea in a tin not designed for citrus teas. The inner plastic lid keeps the outer lid from getting stuck. I'm so glad the first sales girl I had at Teavana told me to put my citrus tea in this affordable tin! I do wish it was also offered in a smaller (maybe 1/2-lb.) size, but for the price, this is great. And, in comparison to the commentor who said this is awkward--I'm a 5'2" girl with weak arms, and even when it's filled with a pound of tea, I have no problem picking it up and getting my hands around it and opening it. I like to switch up the teas I buy, so I'm stocking up on these as I go. Whether used to store citrus teas or not, it's a GREAT tea tin.
Comment on this review
I purchased this last night at a shop on recomendation for my Samurai/ Maharaja Chai blend. It seems big, but it is so easy to use! It's very simple to open and it stands out from my others making it easy to identify the Chai. Love it.
Comment on this review
Aromatic
Convenient
Fresh
High Quality
Anytime
Gifts
Personal
Storage
This is a fantastic tin! I only purchased one of these tins to start with because I was concerned that the lid was a gimmic. Let me say it is not! I put a 2oz bag of my lemon tea in a regular 3oz tin and it began to taste like drinking a rusty screw so I threw away the little I had left and bought another of the citrus tins and have noticed a marked difference. I also love how large the tin is so I won't have to worry about whether or not my tea will all fit into one container. Since I generally order the bags online you can never be sure if the tea will be large and chunky with herbals so why go small and risk your tin being too small? If you are going to buy a tin for citrus tea this is the best buy for the best value. I will never put a lemon tea into a regulare tin ever again. I recommend this tin for everyone who wants to get the money's worth out of a citrus tea or even a fruit tea like the Red Roobios or the Sakura Alure. You even save money when you buy the teas by the pound so I cannot imagine why anyone wouldn't buy the larger tin and fill it.
Tea Flavor:
Citrusy, Fruity
Comment on this review
I was given this as a gift, I feel bad my sister wasted her money. The tin is HUGE, I am a 5'7" tall woman and I can barely get my hand around it. By the time I filled it with tea I couldn't pick it up! I'm sure the lid isn't THAT special. Use your money towards one of the pretty Japanese tins in a normal size- it's better to buy in smaller batches anyway.
Comment on this review
I know it is for citrus teas but the lid is soo simple to get off unlike the other airtight tin I have form teavana. Love this for all my tea's.
Comment on this review