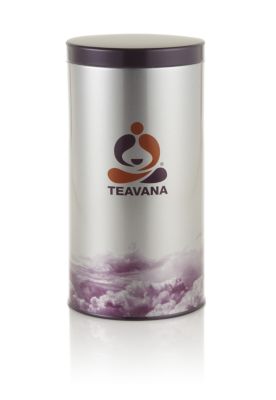 Teavana 1lb Tea Tin
Product Rating
Description
Keep your tea fresh and delicious for up to a year with our 1lb tea tin! It holds approximately one pound of your favorite tea (amount varies based on tea weight and bulk) and the lid seals to keep your teas fresh longer. It is the perfect way to store your favorite tea! Tin stands 8 inches tall and has a diameter of 4.25 inches. Made in Japan of tin-plated steel.


$7.00
Availability:
In Stock
Product Reviews
Convenient (4)
High quality (4)
Tea Flavor:
Citrusy (4), Fruity (3)

Reviewer Profile:
Occasional tea drinker (12), Tea enthusiast (12), Health conscious (6), High-end shopper (6)
Solution: Don't put the lid on all the way.
Comment on this review
The tin is easy to open and easy to fill. It seems like it'll keep my tea fresh for a good amount of time. The only problem? I purchased the 1 lb, yet I could only fit 10 oz in it.
Comment on this review
This jar won't open. I don't I'm ever buying from teavana again if I CAN'T OPEN THE JAR TO GET TO THE TEA. This needs to be fixed now, it's incredibly frustrating
Comment on this review
High Quality
Look Is Great
Smooth Metallic Outside
I love this canister. The look and feel of it is perfect and it keeps my tea fresh. I own 2 and am buying more!
Comment on this review
This is great for storing your tea it keeps smell and tea fresh
Comment on this review
I really enjoy these tins. I have never had an issue with opening them. I love how fresh it keeps the teas- you can really tell because there is no scent in the cabinet that I store them in and as soon as I open the tin its such a delight. They really are air tight. I have a few teas that have some citrus in them, but I don't think it is enough to warrant the citrus tin. These stay sealed, don't pop open over time. They are very well made. When I purchase a tea I always get the tins. It is worth it in my opinion!
Comment on this review
I tried opening my tin (small container) and couldn't get it opened. I used the hugging method and also tried to pry it open. Nothing worked... then my 75 year old mother suggested that I run the tin under hot water. I held it on its side and ran hot tap water over it and voila - I was able to open the tin without difficulty!!
Comment on this review
This tea cannister is on the lower end of the pricing spectrum. You get what you pay for. So, if your going to need the cannister for a period of time, spend more money on a better one.
Comment on this review
I usually just buy tea bags, but this time I loved the tea from Teavana and decided to splurge. I bought the canister on recommendation by the clerk. First time it was hard to open, but did get it open. Second time it took me about 20 minutes. I have tendonitis and this is not the tin for me to use, my wrists were hurting so bad I ended up in braces the rest of the day! I did do the hug method, have always done that... not working. I transferred tea to a different container so I dont get hurt the next time I want to relax with a cuppa tea!
Comment on this review
The salesgirl sold me some citrus tea and then sold me a tin that is apparently not mean to be used with citrus tea, as I have discovered from reading other reviews. Disappointing, since I've been wanting a good tin to keep my tea fresh. I'm fairly certain orange blossom goes under the citrus category. The salesgirl added this one on, and I bought it on a whim on her recommendation, so I don't know why she didn't offer me one suitable for my tea. I'll be returning it.
Comment on this review