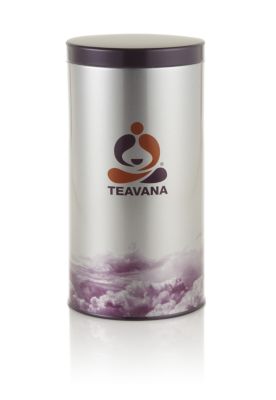 Teavana 1lb Tea Tin
Product Rating
Description
Keep your tea fresh and delicious for up to a year with our 1lb tea tin! It holds approximately one pound of your favorite tea (amount varies based on tea weight and bulk) and the lid seals to keep your teas fresh longer. It is the perfect way to store your favorite tea! Tin stands 8 inches tall and has a diameter of 4.25 inches. Made in Japan of tin-plated steel.
$7.00
Availability:
Available on 09/14
Product Reviews
Convenient (4)
High quality (4)
Keeps tea fresh (4)
Tea Body:
Lightweight (3), Medium (3)

Tea Flavor:
Citrusy (4), Fruity (3)

Reviewer Profile:
Occasional tea drinker (14), Tea enthusiast (14), Health conscious (6), High-end shopper (6)
I've only used this tin twice. The first time I opened it, it was a little hard to get out. I had to wiggle it a few times before it popped open. That was fine because I know it keeps the tea fresh. The second time I used it though, it was nearly impossible to take out. I tried wiggling and twisting it but it barely moved. After about 5 minutes, it was finally open.

Closing the tin was another 5-10 minutes. I was finally able to put the lid by squeezing all the sides of the flexible material.

I tried opening it again just to make sure I can still get my tea but now the lid does not twist or move.

Overall, this tin is great for keeping your tea fresh but horrible if you want to actually drink your tea. Another good use for this tin though is to cut a slot on top of the lid and turn it in to a piggy bank. You'll for sure save money with this because you will never be able to open it and use the money.
Comment on this review
Wow- this tea container is a pain to open. I stuck rubber bands around it, tried to stick a letter opener between the lid/container. I ended up using a butter knife at the seam. The container was so full that tea went everywhere when I finally got it open.
I feel like there should be a better way.
Comment on this review
The product would be great if I didn't have to fight to open it every time I want tea! It keeps it fresh but 15+ minutes to open 1 tea tin is too much.
Request for Teavana: Add a handle on the top that people can use for leverage please! Otherwise this product is largely inaccessible for the general population.
Comment on this review
Great Smell
Keeps Tea Leaves Fresh
I recently got myself the Berry kiwi Colada from Teavana. The salesperson told me that if I got myself a 1lb tin storage, it would get me 10-15% off of whatever tea I get. I thought that was a great deal. My mom has a couple of the smaller tin storages that she got from teavana but I wanted one where I can just use for myself. When I was making my first drink I thought it was a bit hard to open the tin can, I just set the tin can on the table then I just wiggle the lid and then gradually open the lid. Even though its hard to open it does keep your tea leaves fresh!! Once you open that tin can it gives off an amazing smell from the tea leaves.
Comment on this review
Easy To Close
Easy to open
Good Storage For Sugar
Keeps tea fresh
This works perfectly! It keeps my tea fresh for a really long time, and I also use it to store my rock sugar in as well. (I buy the 1 pound bags of sugar because I don't need an accumulation of jars that the 3 pound option of sugar comes in.)

I also use it for my favourite teas that I drink year round, and it is always super fresh!

Some other reviews say that it doesn't fit a whole pound of tea, and thats true. But the same can be said for the other tins as well. The 3oz copper tin only fits 2oz. And the 6oz tin fits 5-6 depending on what tea you are using it for. And it tells you that the amount it will hold may vary based on the tea in the description for the tins.

The lid is easy to get off, you just have to give it a slight wiggle. And easy to put back on, you just push down on it and wait to hear two clicks.

LOVE THIS.
Comment on this review
This is the first time I bought tea from teavana and I can't even drink the tea because I can't get the lid open. It is virtually impossible to open and incredibly frustrating. I have tried opening it a million times and it still won't budge.
Tea Body:
Light
Tea Flavor:
Wild Orange Blossom, Youthberry
Comment on this review
I CANNOT GET THIS THING OPEN!! ITS IMPOSSIBLE!
Comment on this review
These tins do their job. They are air tight and keep my tea fresh and delicious. However, I literally just broke a sweat trying to get the thing closed again!! The trick to getting it open, I found, is to wiggle wiggle wiggle it. Front. Back. Front. Back. until it opens. Closing it? If anyone has any suggestions, I will take them! And when the tin has tea in it, oh man I would be pretty upset if I spilled it all over the place.
Comment on this review
I was getting incredibly frustrated with getting the lid off the tin, then finally found the perfect solution, and so easy to get it open! Use the tip of a butter knife, wedge it in the crease, and twist the knife so you leverage the lid up.
The lid is very easy to put on, and this does keep my tea super fresh. I had forgotten about the tea for nearly 9 months, when I came back to it, it was as fresh as when I bought it.
Comment on this review
Solution: Don't put the lid on all the way.
Comment on this review