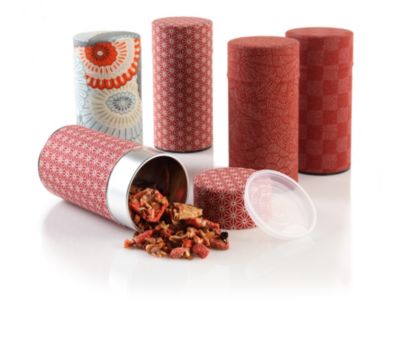 Red Tea Tins
Product Rating
Description
Our red fabric-covered tins feature designs based on traditional Japanese kimono patterns. The patterns originated in the Ise area of Japan where the oldest Shinto shrine is located. These attractive tea tins will hold approximately 5oz of tea and include a removable plastic seal to keep your tea fresh and delicious. Because the tins are covered randomly, we can't promise a specific pattern. But all are beautiful. Made in Japan of tin-plated steel. Tin patterns are selected at random and we cannot promise a specific one. When you order we will pick one for you.


$12.95
Availability:
Available on 05/24
Product Reviews
I knew that when I bought this item online that I was getting a random tin. I thought that the tin would be one that was pictured. I love the ones that were pictured, so I did not really care which one that I got. Instead of getting a pretty red tin I got a tan fabric with little owls on it. It looks like cheap fabric. I am very disappointed and will not be purchasing anything that is random again.
Comment on this review
These are decent tins. I bought them in store so I could get the one I wanted (although you run the risk that the tin you want won't be available in store). I was very happy with the in store selection. The only thing that is mildly annoying is that the label is on the inside seal, so you have to open the tins to see what each is (especially if you have a lot of teas). Maybe next time, I will ask for the label to be stuck to the bottom of the tin.
Comment on this review
I got one that wasn't even pictured! I got a white tin with brown and red owls on it! It's adorable!
Comment on this review
Wish I could have had an option of which red can I bought, because it turns out that I got the one blue one in the group. I wouldn't really mind if it was for me, but since it's part of a gift for a person whose favorite color is red, it's a little disappointing. But it seems to be a nice, well made can. Whomp, whomp...
Comment on this review
Great desgined tin, just wish i could choose me own pattern, so i can have a set of red tins!
Tea Body:
Medium
Tea Flavor:
Citrusy, Spicy
Comment on this review