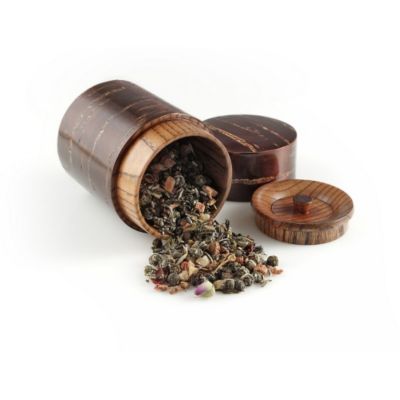 Cherry Bark Tea Canister
$24.95
Product Rating
Description
Completely made of cherry wood, this tea canister includes an internal lid to k eep tea fresh. The wood will absorb the flavors and scent of the tea stored wit hin, so we recommend one type of tea per tea tin. Hand wash using a soft, damp cloth. Allow to air dry after use. Do not immerse in water. Holds approximately 3oz of tea leaves.


Product Reviews
Reviewer Profile:
Tea enthusiast (6), Health conscious (3), High-end shopper (3)
This canister is very pretty and natural looking. I bought it thinking it would be a nice addition for my collection. When I opened the lid, a very "chemical" smell hit me. It smelled like lacquer/paint. I aired out the canister for a few days, and then put the lid on again for an overnight trial. (I was afraid to put my tea in quite yet...)When I took the lid off the next morning, the smell was back. I would not put a food item in this container.
Comment on this review
I love this canister to put my tea in! It keeps is nice and fresh and looks nice on my shelf.
Tea Body:
Light
Tea Flavor:
Fruity, Spicy
Comment on this review
This canister is beautiful and seems to have a nice, tight seal. However, when I bought it I noticed a very potent, unpleasant smell that seemed to be a combination of the cherry bark and maybe some sort of lacquer. I hand washed the canister and left it out for days until the lacquer smell was not noticeable and began storing a tea in it (one I had tried before and enjoyed.)

When I went to brew a cup of the tea days later, there were hints of the smell. I took a sip of the tea, which tasted disgusting and left a burning sensation in my mouth even after spitting it out.

Not only did this canister ruin a batch of tea, but I am also now left with a useless canister that I am afraid to use for its supposed purpose!
Comment on this review
I love cherry wood and have over 20 of these cherry wood containers. I store all of my teas in them. I wish they had various sizes so that I can store more of each tea.
Comment on this review
Aromatic
Convenient
High Quality
This Cherry Bark Tea Canister is absolutely beautiful! I'm sure I'd get many bows if I gave this as a gift! It's very convienient, great capacity..it stores about 3oz. tea leaves maybe more & it's slight bark aroma is just marvelous! I truly am in love & very happy with this canister.
Comment on this review
I had this on my Wish List for a future purchase. HOWEVER, when I saw they were on sale for half price I couldn't resist. I bought two, and when they arrived I was so impressed by them that I just ordered two more!! I love that they are made of cherry wood, and are even more gorgeous in person. They are very well constructed, the inside lid is a perfect fit and the outside top has a tight seal. I know my tea will be well protected from light and air. In short...I'm VERY pleased! Thanks Teavana for offering these at 50% off. :-)
Comment on this review
I bought this just for my Black Dragon Pearls black tea. Perfect container for a perfect tea!
Yay!!! Expensive but worth every penny. I will buy this thing again when I find another tea that's worthy of this container.
Comment on this review
Great for storing tea, keeps it fresh and seals in the aroma. Would recommend using for only one type of tea. Well constructed and durable, it does not look or feel cheap at all.
Comment on this review
This tea canister is very well made and is attractive to boot. Has a nice weight to it, like you would expect of a wood item. I like the feature of the inner lid that ensures a seal to keep the tea fresh.
Comment on this review